Fc-hDectin-1a
| Fc-hDectin-1a | Unit size | Cat. code | Docs | Qty | Price |
| --- | --- | --- | --- | --- | --- |
| Soluble human Dectin-1 receptor | 50 µg | fc-hdec1a | | | |
Soluble human Dectin-1 receptor

Fc-hDectin-1a is a soluble human Dectin-1 receptor constructed by fusing the C-terminal extracellular domain of human Dectin-1a (aa 67-247) to the C-terminus of an engineered human IgG1 Fc domain with a 10 amino acid linker.
Fc-hDectin-1a has an apparent molecular weight of ~55 kDa on SDS-PAGE.
Fc-hDectin-1a is expressed in CHO cells and purified by protein G affinity chromatography.
Back to the top
Specifications
Applications: Receptor binding assays, neutralization
Formulation: 0.2 µm filtered solution in phosphate buffered saline (pH 7.4) containing 10% v/v FBS
Back to the top
Contents
50 µg lyophilized Fc-hDectin-1a

Product is shipped at room temperature.

Store lyophilized product at -20°C.

Product is stable for at least 1 year.
Back to the top
Details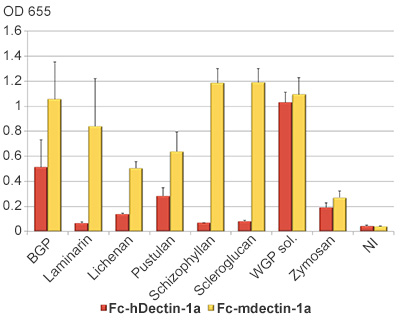 β-Glucan receptor binding assay:
96-well plates were coated with 0.5 µg of various β-glucans and incubated with 1 μg/ml Fc-hDectin-1a or Fc-mDectin-1a.
After 2 hours, an anti-IgG secondary antibody conjugated to alkaline phosphatase was added.
β-Glucan-Dectin-1 binding was assessed using the QUANTI-Blue™ assay.
Back to the top