Kinase Inhibitors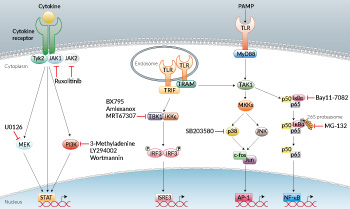 Inhibitors of apical and downstream kinases
Kinases are key enzymes involved in signal transduction. Specifically, these enzymes mediate the transfer of phosphate groups from high-energy molecules to their substrate molecule. This process is critical for many cellular functions, including cell proliferation, metabolism, and survival.
For your research needs, InvivoGen provides a large panel of high-quality kinase inhibitors that block the action of one or more protein kinases. This collection includes:
- PI3K inhibitors

- TBK1/IKKε inhibitors

- MEK1/MEK2 inhibitors

- JAK1/JAK2 inhibitors


See our Poster on Inhibitor Signaling Pathways
InvivoGen's collection of inhibitors is for research only use.