Fc-Fusion Vectors
pFUSE-Fc, a family of plasmids for the construction of Fc-Fusion proteins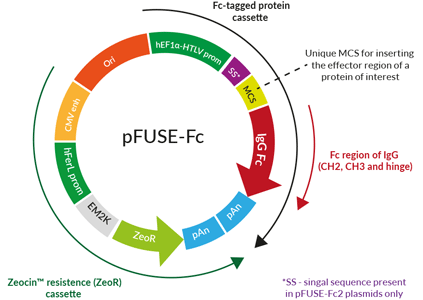 pFUSE-Fc plasmid for production of Fc-fusion proteins
InvivoGen offers a collection of pFUSE-Fc plasmids developed to facilitate the expression and production of Fc-Fusion proteins, by fusing a sequence encoding a given protein to the Fc region of an immunoglobulin (Ig).
Fc-fusion proteins are molecules consisting of an IgG-Fc domain fused to a protein of interest, such as an extracellular domain of a receptor, ligand, enzyme, or peptide. The Fc domain comprises the CH2 and CH3 regions of the IgG heavy chain and the hinge region. Fusion to an Fc domain gives the hybrid protein additional biological and biophysical properties.
InvivoGen's pFUSE-Fc collection offers:
A large choice of Fc regions from different species: human, mouse, rat and rabbit 
Fc regions without introns (pFUSE-Fc) or with introns (pINFUSE-Fc)
Native Fc regions or engineered Fc regions with altered effector functions (Engineered Fc pFUSE-Fc Vectors)
Fc regions tagged with Lucia luciferase (pFUSE-Lucia-Fc) or SEAP (pFUSE-SEAP-Fc) for easy screening and detection of recombinant clones 
COVID-19 related research

Recombinant SARS-CoV-2 antigens, such as the Spike (S) glycoprotein or Nucleocapsid (N), are used for the isolation of target-specific neutralizing antibodies. Fusing these antigens to the human IgG Fc region facilitates their purification. Additionally, recombinant SARS-CoV-2 Fc-fusion proteins are potential COVID-19 vaccine candidates.
Plasmid
Cloning site / Gene
Fc Region
Isotypes Available

C-terminal Fc fusions


pFUSE-Fc
Cloning sites
- Native
- No introns
- Human IgG1, 2, 3, 4
- Mouse IgG1, 2a, 2b, 3
- Rabbit IgG
- Rat IgG2b
pINFUSE-Fc
Cloning sites
- Native
- With introns
- Human IgG1, 2, 3, 4
- Mouse IgG2b
pFUSE-Fc engineered
Cloning sites
- Engineered
- No introns
- Human IgG1, 2, 4
- Mouse IgG1, 2a
pFUSE-Lucia-Fc
Lucia secreted luciferase - Cloning sites
- Native
- No introns
- Human IgG1
- Mouse IgG2a
pFUSE-SEAP-Fc
SEAP
- Native
- No introns
- Human IgG1, 2, 3, 4
- Mouse IgG2a, 2b, 3
- Rabbit IgG
- Rat IgG2b

N-terminal Fc fusions


pFUSEN-Fc
Cloning sites
- Native
- No introns
- Human IgG1,2
- Mouse IgG2a
pFUSEN-Fc engineered
Cloning sites
- Engineered
- No introns
- Human IgG1
pFUSEN-Lucia-Fc
Lucia secreted luciferase - Cloning sites
- Native
- No introns
- Human IgG1, 2
- Mouse IgG2a
pFUSEN-Lucia-Fc engineered
Lucia secreted luciferase - Cloning sites
- Engineered
- No introns
- Human IgG1