TLR7/8 Ligands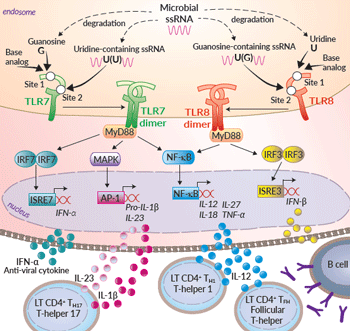 Toll-like receptor (TLR) 7 and TLR8 are endosomal receptors that play an important role in the immune response to viral infection. They recognize GU-rich short single-stranded RNA (ssRNA) as their natural ligand, as well as small synthetic molecules, such as imidazoquinolines and nucleoside analogs. TLR7 and TLR8 signaling is MyD88-dependent and is mediated by the nuclear translocation of AP-1 and NF-κB, in addition to the phosphorylation of interferon regulatory factors (IRFs). IRFs promote the induction of interferon-stimulated response element (ISRE) and the subsequent expression of type I interferon (IFN) genes, whereas AP-1 and NF-κB activation results in the production of pro-inflammatory cytokines.
InvivoGen provides the most comprehensive choice of TLR7, TLR7/8, and TLR8 ligands, including:
The functionality and specificity of these TLR ligands are validated using HEK-Blue™ TLR7 and HEK-Blue™ TLR8 Cells.
For vaccination studies, InvivoGen supplies R837 VacciGrade™ (TLR7 ligand) and R848 VacciGrade™ (TLR7/8 ligand).

Read our review on TLR7 & TLR8