CU-CPT9a
| CU-CPT9a | Unit size | Cat. code | Docs | Qty | Price |
| --- | --- | --- | --- | --- | --- |
| TLR8 Antagonist - InvitroFit™ | 10 mg | inh-cc9a | | | |
Specific TLR8 inhibitor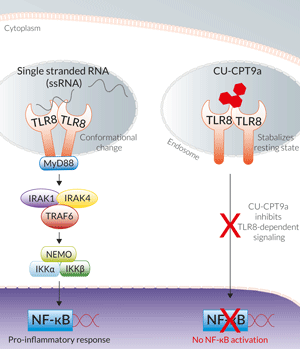 Inhibition of TLR8 signaling by CU-CPT9a
CU-CPT9a is a potent and selective inhibitor of Toll-like receptor 8 (TLR8) [1-4]. CU-CPT9a has been used to establish previously unknown functions of TLR8 as a dominant sensor of pyrogenic Gram‑positive bacteria (i.e. S. aureus) as well as having an important role in sensing Gram‑negative bacteria (i.e. E. coli and P. aeruginosa) [4]. Additionally, CU-CPT9a has been shown to exert potent anti-inflammatory effects in samples from patients with inflammatory diseases such as osteoarthritis (OA), rheumatoid arthritis (RA), and adult-onset Still's disease (AOSD) [1].
 
Mode of action:

Under normal conditions, the binding of a TLR8 agonist, such as R848 or ssRNA, induces two TLR8 protomers to be brought into close proximity and initiates downstream NF-κB-dependent signaling [1]. CU‑CPT9a binds to and stabilizes the TLR8 dimer in its resting state. Subsequently, the stabilization of the resting state prevents TLR8 from undergoing the necessary conformational change for activation [1]. Therefore, CU‑CPT9a prevents TLR8 activation and furthermore, antagonizes any binding of TLR8 ligands. Importantly, CU-CPT9a blocks the activation of TLR8 and the subsequent NF-κB signaling without having any effect on other TLRs, especially the closely related TLR7 [1-3].
Key features of CU-CPT9a:

CU-CPT9a specifically inhibits TLR8.
CU-CPT9a binds directly to TLR8 and blocks the conformational change needed for activation.
InvitroFit™: each lot of CU-CPT9a is highly pure (≥95%) and functionally tested.
References:
1. Zhang S. et al., 2018. Small-molecule inhibition of TLR8 through stabilization of its resting state. Nat Chem Biol, 14(1):58-64.
2. Hu Z. et al., 2022. Protocol for evaluation and validation of TLR8 antagonists in HEK-Blue cells via secreted embryonic alkaline phosphatase assay. STAR Protoc. 3(1):101061.
3. Hu Z. et al., 2018. Small-molecule TLR8 antagonists via structure-based rational design. Cell Chem Biol. 25(10):1286-91.
4. Moen S.H. et al., 2019. Human Toll-like Receptor 8 (TLR8) is an Important Sensor of Pyogenic Bacteria and Is Attenuated by Cell Surface TLR Signaling. Front Immunol, 10:1209.
Back to the top
Specifications
CAS number: 2165340-32-7
Formula: C17H15NO2 
Molecular weight: 265.31 g/mol
Solubility: 100 mM DMSO
Working concentration:  1 - 10 μM for cell culture assays
Quality control:
Purity: ≥95% (UHPLC)
Specific inhibition of human TLR8 by CU-CPT9a has been confirmed using cellular assays.
The absence of bacterial contamination (e.g. lipoproteins and endotoxins) has been confirmed using HEK-Blue™ hTLR2 and HEK-Blue™ hTLR4 cells.
Back to the top
Contents
10 mg CU-CPT9a provided as a dried powder
5 ml CU-CPT9a Diluent provided as a clear solution

CU-CPT9a is shipped at room temperature.

Upon receipt, store CU-CPT9a at -20 °C and CU-CPT9a Diluent at 4 °C. Upon resuspension of  CU-CPT9a in DMSO, prepare aliquots and store at -20 °C.

Resuspended product is stable for at least 3 months when properly stored.

Avoid repeated freeze-thaw cycles.
Back to the top
Details
Chemical structure of CU-CPT9a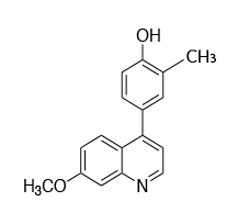 Back to the top