Pan-Coronavirus Fusion Inhibitor
EK1C4
Unit size
Cat. code
Docs
Qty
Price

Pan-coronavirus fusion inhibitor - InvitroFit™

25 µg

100 µg

inh-ek1c4
Lipopeptide-based SARS-CoV-2 fusion inhibitor

EK1C4 is a lipopeptide that potently inhibits SARS-CoV-2 (and other human coronaviruses, HCoV) fusion with target cells [1]. It is derived from the EK1 peptide to which cholesterol has been covalently attached in the C-terminal, with the help of a flexible polyethylene glycol (PEG) spacer [1]. 
Mode of action: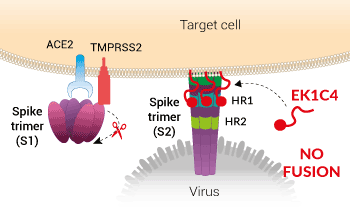 Inhibition of Spike-mediated cell fusion by EK1C4
EK1C4 binds to a region of the virus Spike (S) protein that is crucial for fusion with the target cell. EK1C4, like EK1, interacts with the heptad repeat domain 1 (HR1) in the S2 subunit of the Spike protein [1,2]. These inhibitors prevent the HR1 and HR2 trimer association to form a six-helix bundle (6-HB) which brings the viral and target cell membranes in close proximity for fusion. EK1C4 has been described as the most potent HCoV fusion/entry inhibitor among EK1 and EK1-derived molecules in cellular assays using pseudotyped or live coronaviruses [1]. It has been suggested that the cholesterol group improves the anti-viral activity of EK1C4, possibly through anchoring the inhibitor to the target membrane, or binding to the hydrophobic groove on HR1 trimers [1]. Intranasally applied EK1C4 protects mice against HCoV-OC43 infection  [1]. This lipopeptide has thus the potential to be developed as a pan-coronavirus prophylactic or therapeutic, alone or in combination with neutralizing anti-Spike antibodies.

 More details
Available upon request:

Bulk quantities available upon request: contact us
Key features:

Potent inhibitor of HCoV fusion/infection of target cells 
InvitroFit™ grade: highly pure (≥95%) and inhibitory function validated in cellular assays

Learn more about InvivoGen's cell fusion assays
EK1C4 provided by InvivoGen is for research use only.
References
1. Xia, S et al., 2020. Inhibition of SARS-CoV-2 (previously 2019-nCoV) infection by a highly potent pan-coronavirus fusion inhibitor targeting its spike protein that harbors a high capacity to mediate membrane fusion. Cell Research. 30(4):343-355.
2. Xia, S et al., 2020. Fusion mechanism of 2019-nCoV and fusion inhibitors targeting HR1 domain in spike protein. Cell Mol. Immunol. 17:765-767.
Back to the top
Specifications
Synonym: (N)EK1-GSGSG-PEG4-(Chol)
CAS number: 2428532-99-2
Formula: C250H405N51O78S2
Molecular weight: 5433.9 g/mol
Solubility: 5 mg/ml in DMSO
Quality control:
Purity ≥95% (UHPLC)
Inhibitory activity validated in cellular assays
The absence of bacterial contamination (e.g. lipoproteins and endotoxins) is confirmed using HEK-Blue™ TLR2 and HEK-Blue™ TLR4 cells.
Back to the top
Contents
EK1C4 is provided as a dried powder and is available in two pack sizes:
25 μg: inh-ek1c4
100 μg (4 x 25 μg): inh-ek1c4-1

 EK1C4 is shipped at room temperature.

 Upon receipt, store at -20 °C.
Back to the top
Details
Inhibition of Spike-mediated cell fusion with EK1C4: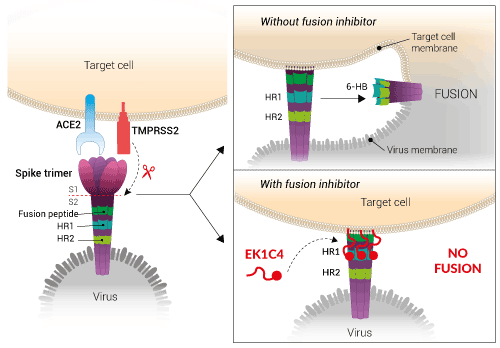 Back to the top