SARS-CoV-2 Spike "donor" cells for cell fusion assays
| 293-hMyD88 Cells | Unit size | Cat. code | Docs | Qty | Price |
| --- | --- | --- | --- | --- | --- |
| Human MyD88 expressing HEK293 cells | 3-7 x 10e6 cells | 293-hmyd | | | |
You may also need : ACE2 expressing HEK293 cells | View more associated products ▼
HEK293-derived "donor" cell line for Spike-dependent cell fusion

InvivoGen offers a human embryonic kidney (HEK)293-derived cell line, specifically designed to study SARS-CoV-2-host cell fusion:
• 293-hMyD88 Cells
These cells have been engineered to express a  constitutively active human MyD88 [1]. Upon transient transfection, with a Spike expression plasmid, 293‑hMyD88 cells become a SARS-CoV-2 mimic, which can then fuse with InvivoGen's permissive reporter cells (e.g. HEK‑Blue™ hACE2(‑TMPRSS2) and A549‑Dual™ hACE2‑TMPRSS2) [2].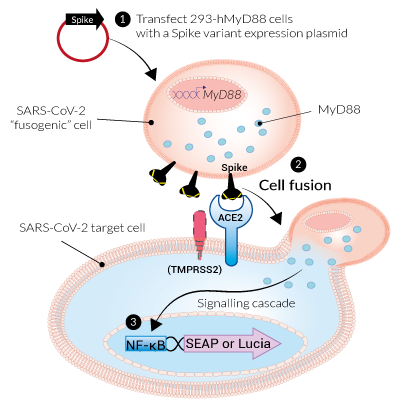 Cell fusion with 293-hMyD88 "donor" cells

More details
InvivoGen also offers:

• SARS-CoV-2 Variant Spike Expression Plasmids
• HEK293 ACE2(-TMPRSS2)-expressing Cells
• A549 ACE2-TMPRSS2-expressing Cells
Available upon request:

• 293-hMyD88-S Cells (Wuhan/original)
• 293-hMyD88-S-V8 Cells (Delta/B.1.617.2 variant)
• 293-hMyD88-S-V11 Cells(Omicron/BA.1 variant)
Rationale

SARS-CoV-2 variants are characterized by several mutations within the antigenic Spike protein, which drives the virus entry into target cells [3]. These mutations provide a selective advantage to the virus, ultimately reducing the effectiveness of vaccination and therapeutic strategies [4]. Thus, Spike-mediated SARS-CoV-2 fusion with target cells is a relevant readout to screen for novel neutralizing monoclonal antibodies (mAbs) or small molecule inhibitors.
InvivoGen has developed a simple cell fusion assay that relies on the transfer of the adaptor molecule, MyD88, from a 'donor cell line' to an 'acceptor cell line' expressing an NF-κB-SEAP-inducible reporter gene. Cell fusion is readily assessable in the co-culture supernatant using the SEAP detection reagent, QUANTI-Blue™ Solution.
 


Learn more about InvivoGen's cell fusion assays
 
Key Features

Stable and constitutive activation of the human MyD88 gene for NF-κB-SEAP-based cell fusion assays.
Functionally validated in cell fusion assays using pUNO1-Spike (Wuhan-Hu-1 D614) and the HEK-Blue™ hACE2(-TMPRSS2) reporter cell line.
 
Applications

Screening inhibitors of Spike-binding and/or SARS-CoV-2 host receptors.
Studying the efficacy of vaccination and current therapeutics against emerging SARS-CoV-2 variants.
➔ 293-hMyD88 cells with stable expression of Spike (Wuhan, original), Spike V8 (Delta/B.1.617,2), or Spike V11 (Omicron/BA.1) have also been generated. These cells have been used to compare the efficiency of EK1C4 at inhibiting SARS-CoV2 Spike variant-mediated cellular fusion. See data

Learn more about emerging SARS-CoV-2 variants
References:
1. Deguine J. & Barton G.M. 2014. MyD88: a central player in innate immune signaling. F1000Prime Reports, 6:97, doi:10.12703/P6-97
2. Hoffmann M. et al. 2020. SARS-CoV-2 cell entry depends on ACE2 and TMPRSS2 and is blocked by a clinically proven protease inhibitor. Cell. 181:1-16.
3. Garcia-Beltran, W.F. et al. 2021. Multiple SARS-CoV-2 variants escape neutralization by vaccine-induced humoral immunity. Cell. doi:10.1016/j.cell.2021.03.013
4. Greaney, A.J. et al., 2021. Complete mapping of mutations to the SARS-CoV-2 spike receptor-binding domain that escapes antibody recognition. Cell Host & Microbe. DOI: 10.1016/j.chom.2020.11.007.
Back to the top
Specifications
Growth medium: DMEM, 4.5 g/L glucose, 2 mM L-glutamine, 10% (v/v) heat-inactivated fetal bovine serum (FBS), 100 U/ml penicillin, 100 µg/ml streptomycin, 100 µg/ml Normocin™
Antibiotic resistance: Puromycin
Quality Control:
Functionally validated in cell fusion assays using pUNO1-Spike and HEK-Blue™ hACE2 cells.
The stability for 20 passages, following thawing, has been verified for both cell lines.
These cells are guaranteed mycoplasma-free. 
InvivoGen's products are covered by a Limited Use License (See Terms and Conditions).
Back to the top
Contents
3-7 x 106 293-hMyD88 cells in a cryovial or shipping flask.
1 ml of Puromycin (10 mg/ml). Store at 4 °C or at -20 °C.
1 ml of Normocin™ (50 mg/ml). Normocin™ is a formulation of three antibiotics active against mycoplasmas, bacteria, and fungi. Store at -20 °C.
IMPORTANT: If cells are shipped frozen (i.e. in a cryovial) and are not frozen upon arrival, contact InvivoGen immediately.

Shipped on dry ice (Europe, USA, Canada and some areas in Asia)
Back to the top
Details
MyD88 and InvivoGen's cell fusion assay

A gain-of-function mutant of MyD88, the canonical adaptor and central node in inflammatory signalling pathways, has been described in the literature. This mutant (L256P) can spontaneously assemble and lead to persistent NF-κB activation. Therefore, upon cell fusion in InvivoGen's assay, the constitutively expressed MyD88 in the donor cell line is transferred to the acceptor cell, where it is able to activate an IRAK-dependent signalling cascade. Ultimately, this leads to the expression of the NF-κB-dependent SEAP reporter. 
Back to the top