293XL/TLR8
| 293XL/hTLR8 | Unit size | Cat. code | Docs | Qty | Price |
| --- | --- | --- | --- | --- | --- |
| 293XL cell line expressing the human TLR8a gene | 3-7 x 10e6 cells | 293xl-htlr8 | | | |
You may also need : Normocin™ - Antimicrobial Reagent | View more associated products ▼
HEK293 clones expressing TLR8

293XL/TLR8 cells were obtained by stable transfection of HEK293XL cells with a pUNO-TLR8 plasmid which expresses the human TLR8 gene.
The control cell line of 293XL/TLR8 cells is 293XL/null cells.
Back to the top
Specifications
Antibiotic resistance: blasticidin
Growth medium: DMEM, 4.5 g/l glucose, 2-4 mM L-glutamine, 10% (v/v) fetal bovine serum, 50 U/ml penicillin, 50 μg/ml streptomycin, 100 μg/ml Normocin™
Guaranteed mycoplasma-free
Back to the top
Contents

Shipped on dry ice (Europe, USA & Canada)
Back to the top
Description
TLR8 was identified together with TLR7 and TLR9 and is expressed more abundantly in PBL and lung [1]. Human TLR8 and TLR7 were reported to independently confer responsiveness to R848, an imidazoquinolone with antiviral activity. R848 induces the activation of NF-κB in HEK293 cells transfected with human TLR8 but not in HEK293 cells expressing murine TLR8, suggesting a species specificity [2]. Recently, single-stranded RNA (ssRNA) was identified as the natural ligand of human TLR83. GU-rich ssRNA oligonucleotides derived from HIV-1 were shown to activate DC and macrophages. TLR8 recognizes ssRNA in the endosomal compartment and leads to the secretion of cytokines [3].
1. Chuang TH. and RJ. Ulevitch, 2000. Cloning and characterization of a sub-family of human toll-like receptors: hTLR7, hTLR8 and hTLR9. Eur Cytokine Netw, 11(3):372-8
2. Jurk M. et al., 2002. Human TLR7 or TLR8 independently confer responsiveness to the antiviral compound R-848. Nat Immunol, 3(6):499
3. Heil F. et al., 2004. Species-specific recognition of single-stranded RNA via toll-like receptor 7 and 8. Science. 303(5663):1526-9.
Back to the top
Details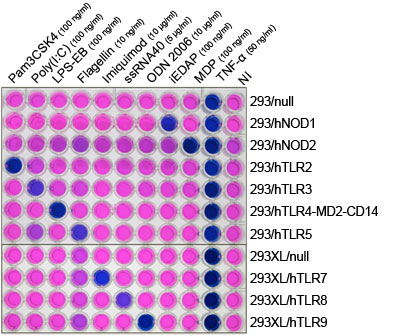 TLR and NOD induction profile of 293 clones :
293/TLR, NOD and control clones were transfected transiently with pNiFty-SEAP and stimulated with TLR and NOD ligands. After 16 hour stimulation, NF-κB-induced SEAP activity was assessed using QUANTI-Blue™, a SEAPdetection medium.
Back to the top
Citations