COVID-19-Related Antibodies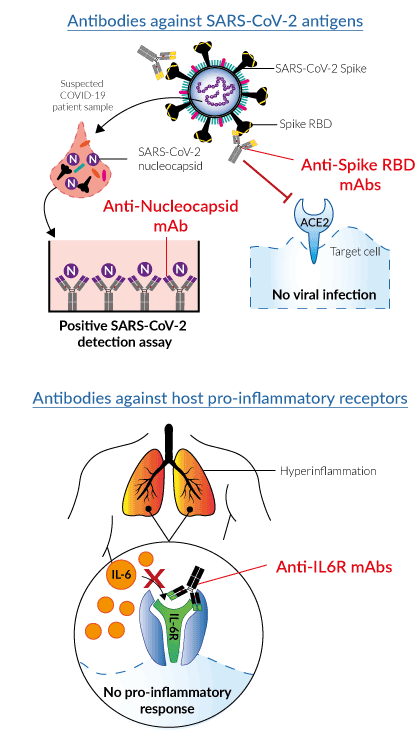 Recombinant mAbs for SARS-CoV-2 Research 

Monoclonal antibodies (mAbs) against SARS-CoV-2 antigens or host pro-inflammatory cytokine receptors are under therapeutic investigation for fighting COVID-19.
InvivoGen offers isotype families of recombinant mAbs related to COVID-19 research.
➔ Check the activity of these antibodies on SARS-CoV2 Spike variants (in-house data)
ISOTYPE FAMILIES

These antibodies are available with different immunoglobulin isotypes, either native or engineered. The different isotypes can trigger or hinder mAb effector functions including, complement-dependent cytotoxicity (CDC) and antibody-dependent cellular cytotoxicity or phagocytosis (ADCC or ADCP). Depending on your target and application, InvivoGen offers:
 
hIgG1: highly-represented in the serum and a potent inducer of ADCC, ADCP, and CDC
hIgG1NQ: non-glycosylated hIgG1 exhibiting ablated ADCC and ADCP, as well as severely compromised CDC
hIgA: main antibody isotype present in mucosal secretions (i.e. in the respiratory tract) and a moderate inducer of ADCC and ADCP
hIgM: first antibody isotype raised in the immune response and a potent inducer of CDC
 
mIgG2a & mIgG2b: most potent inducers of ADCC, ADCP, and CDC among murine isotypes
mIgG1e3: effectorless mIgG1 with a D265A point mutation
 

As a guarantee of quality, our antibody constructs are fully sequenced and their target binding has been validated.
InvivoGen's products are for research use only, and not for clinical or veterinary use.

Read our reviews on COVID-19
➤ The infection cycle of SARS-CoV-2
➤ Treatment with repurposed drugs
➤ Predicted host immune responses to SARS-CoV-2
➤ Vaccine development
➤ Protective immunity & Re-infection