Anti-hACE2 mouse IgG2b
| Anti-hACE2-mIgG2b | Unit size | Cat. code | Docs | Qty | Price |
| --- | --- | --- | --- | --- | --- |
| Human ACE2 monoclonal mouse IgG2b antibody | 100 µg | mabg-hace2 | | | |
You may also need : Mouse Control IgG2b | View more associated products ▼
Anti-human ACE2 mouse monoclonal antibody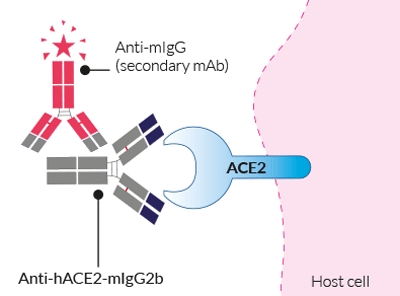 FACs detection of cellular ACE2 transmembrane receptor
Antibody description

InvivoGen provides a mouse monoclonal antibody (mAb) featuring: 
a variable region that specifically targets the human ACE2 transmembrane protein, established as the SARS-CoV-2 receptor [1]
the mouse IgG2b constant region
The Anti-hACE2-mIgG2b antibody was obtained following Swiss mice immunization with DNA encoding hACE2. It is produced in hybridoma cells and purified by affinity chromatography with protein A.
Application

Monitoring cell surface expression of human ACE2 in primary cells or engineered cell lines by FACS (see Figure)
Quality control


Read our reviews discussing SARS-CoV-2
References
1. Hoffmann M. et al., 2020. SARS-CoV-2 cell entry depends on ACE2 and TMPRSS2 and is blocked by a clinically proven protease inhibitor. Cell. 181:1-16.
Back to the top
Specifications
Specificity:  Target human ACE2 (angiotensin-I-converting enzyme-2)
Clone: 1D10
Source: Hybridoma
Isotype: Murine IgG2b
Formulation: 0.2 μm filtered solution in a sodium phosphate buffer with glycine, saccharose, and stabilizing agents.
Purification: Purified by affinity chromatography with protein A
Quality control:
The binding of Anti-hACE2-mIgG2b to human ACE2 has been confirmed using Flow cytometry using  HEK-Blue™ hACE2-TMPRSS2 cells.
The murine IgG2b isotype has been confirmed by ELISA.
The absence of bacterial contamination (e.g. lipoproteins and endotoxins) has been confirmed using HEK-Blue™ TLR2 and HEK-Blue™ TLR4 cellular assays.
Back to the top
Contents
100 µg purified antibody, azide-free, and lyophilized

 The product is shipped at room temperature.

 Store lyophilized antibody at -20 °C.

 Lyophilized product is stable for at least 1 year.
Back to the top