SARS-CoV-2-Structural Genes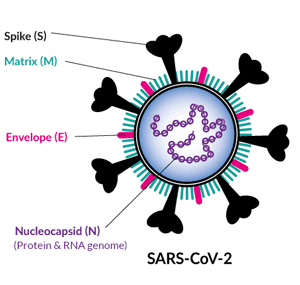 InvivoGen also offers:

Spike full-length or fragments - Matrix - Envelope - Nucleocapsid

SARS-CoV-2 (or 2019-nCoV) is the causative agent for COVID-19. This virus belongs to lineage B of the β-coronavirus genus [1]. Coronaviruses are relatively large enveloped, positive-sense, single-stranded RNA (~30 kb) viruses. The SARS-CoV-2 genome encodes four structural proteins and other accessory or non-structural proteins (including the viral pp1a-pp1ab replicase, the 3C-like protease (3CLpro), the papain-like protease (PLpro), and the RNA-dependent RNA-polymerase RdRp)) [2, 3].
SARS-CoV-2 structural proteins are:
Depending on your applications, InvivoGen offers SARS-CoV-2-Structural Genes cloned into mammalian expression plasmids, or into production plasmids with a His- or Fc-tag.

Read our reviews on COVID-19:
➤ The infection cycle of SARS-CoV-2
➤ Treatment with repurposed drugs
➤ Predicted host immune responses to SARS-CoV-2
➤ Vaccine development
➤ Protective immunity & Re-infection
References
1. Zhu, N. et al., 2020. A Novel Coronavirus from Patients with Pneumonia in China, 2019. N Engl J Med 382, 727-733.
2. Fehr, A.R. & Perlman, S. 2015. Coronaviruses: an overview of their replication and pathogenesis. Methods Mol Biol 1282, 1-23.
3. Zhou, P. et al., 2020. A pneumonia outbreak associated with a new coronavirus of probable bat origin. Nature 579, 270-273.