Nucleocapsid (N) Coding Sequences
The SARS-CoV-2 Nucleocapsid (N) is an important structural protein that plays important roles in the viral life cycle including replication, transcription, and genome packaging [1]. The full-length N protein is a flexible and multivalent phosphoprotein that associates with the viral RNA genome and forms the ribonucleoprotein core. The N protein is a major immunogen in COVID-19 and is thus, an attractive target for diagnosis and treatment strategies against SARS‑CoV‑2. 
Depending on your research, InvivoGen offers different plasmids encoding the SARS-CoV-2 nucleocapsid from the Wuhan-Hu-1 isolate (D614):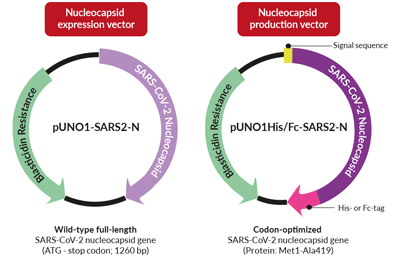 SARS-CoV-2 nucleocapsid expression vs. production vectors
InvivoGen also offers:

• SARS-CoV-2 Cellular Receptor Genes
• SARS-CoV-2 Structural Genes
pUNO1 expression vector

Expresses the wild-type coding sequence of the nucleocapsid gene from ATG to the stop codon (1260 bp)
Unique restriction sites flank the nucleocapsid gene for subcloning purposes
Selectable in mammalian and bacterial cells with Blasticidin 
pUNO1His or pUNO1Fc production vectors

Designed for mammalian cell production of a tagged, secreted, full-length nucleocapsid protein
Express a codon-optimized nucleocapsid sequence with mammalian codon usage
Contain an exogenous signal sequence for extracellular secretion
Feature a C-terminal His- or Fc-tag to facilitate the detection and/or the purification of the nucleocapsid
Selectable in mammalian and bacterial cells with Blasticidin 

Read our reviews on COVID-19:
➤ The infection cycle of SARS-CoV-2
➤ Treatment with repurposed drugs
➤ Predicted host immune responses to SARS-CoV-2
➤ Vaccine development
➤ Protective immunity & Re-infection
References
1. Mu, J. et al. 2020. SARS-CoV-2-encoded nucleocapsid protein acts as a viral suppressor of RNA interference in cells. Sci China Life Sci 63, 1-4.