LumiKine™ Xpress 2.0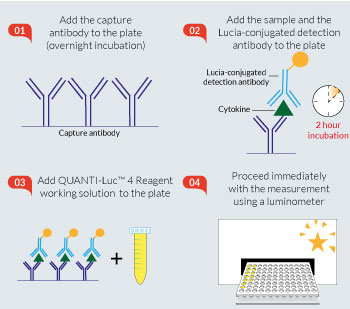 Optimized LumiKine™ Xpress 2.0 protocol
Rapid and simple bioluminescent ELISA kits

LumiKine™ Xpress 2.0 are InvivoGen's second-generation bioluminescent ELISA kits, using Lucia luciferase-conjugated detection antibodies. They have been optimized to reduce hands-on time while retaining high sensitivity and reliability. The LumiKine™ Xpress 2.0 kits allow for the detection of both human and murine cytokines (IFN-α and IFN-β) in various biological samples (cell culture supernatant, serum, and plasma).
Features of the LumiKine™ Xpress 2.0 kits:
Simple: Easy 4-step protocol 
Fast: Single 2-hour incubation and immediate detection
Highly sensitive: Limit of detection <10 pg/ml 
Robust and reliable: Consistent and reproducible results 
LumiKine™ Xpress 2.0 kits are sandwich ELISAs requiring only a single 2-hour incubation in which the cytokine binds to both an immobilized capture antibody, and to a detection antibody conjugated to Lucia luciferase. 
The concentration of the cytokine in the various samples is determined using QUANTI-Luc™ 4 Reagent, a Lucia luciferase detection reagent. The bioluminescent signal is emitted instantly (saving even more time) and is readily assessed by luminometry.