SARS-CoV-2 Spike expressing HEK293 cells
| 293-SARS2-S Cells | Unit size | Cat. code | Docs | Qty | Price |
| --- | --- | --- | --- | --- | --- |
| SARS-CoV-2 spike (D614)-expressing HEK293 cells | 3-7 x 10e6 cells | 293-cov2-s | | | |
| 293-SARS2-S-dfur Cells | Unit size | Cat. code | Docs | Qty | Price |
| --- | --- | --- | --- | --- | --- |
| SARS-CoV-2 spike (D614)-expressing HEK293 cells | 3-7 x 10e6 cells | 293-cov2-sdf | | | |
Notification:  These products are for internal research use only. Additional rights may be available. Please visit InvivoGen's Terms and Conditions.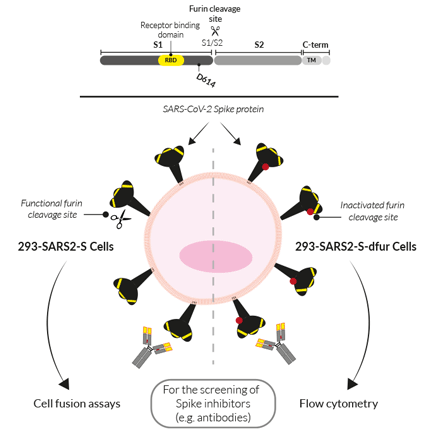 Studying Spike-binding inhibition with InvivoGen's 293-SARS2 Spike Cells
InvivoGen also offers:

• HEK293 ACE2-(TMPRSS2)-expressing Cell Line
• A549 ACE2-TMPRSS2-expressing Cell Line
• SARS-CoV-2 Spike Antibodies
Available upon request:

• 293-SARS2-S-V2-dfur cells (Alpha/B.1.1.7/U.K variant)
• 293-SARS2-S-V3-dfur cells (Beta/B.1.351/S.A variant)
• 293-SARS2-S-V5-dfur cells (Gamma/P.1/BRA variant)
• 293-SARS2-S-V8-dfur cells (Delta/B.1.617.2/IND variant)
• 293-SARS2-S-V11-dfur cells (Omicron/BA.1 variant)
SARS-CoV-2 Spike (D614)-expressing 293 cells

InvivoGen offers human embryonic kidney (HEK)-293-derived cells, specifically designed for COVID-19 studies:
• 293-SARS2-S Cells: with a functional furin cleavage site and recommended for cell-cell fusion assays with ACE2-expressing cells.
• 293-SARS2-S-dfur Cells: with an inactive furin (dfur) cleavage site facilitating improved surface expression and detection for flow cytometry.
They have been engineered to overexpress the original Wuhan‑Hu-1 SARS‑CoV-2 Spike (S) gene, and for optimal expression, the C‑terminal ER-retention signal has been removed [1,2]. Importantly, the Spike protein contains a furin cleavage site that can affect its cellular expression [3].

More details
A crucial step in developing successful COVID-19 treatments is the validation of their efficacy using rapid, reliable and robust platforms. To this end, cell-based assays using Spike-expressing cells provide a more relevant in vivo biological context than biochemical assays (e.g. ELISAs). 
Key Features

Stable expression of the original SARS-CoV-2 Spike (D614) protein.
Functionally validated in cell fusion assays with HEK-Blue™ hACE2(-TMPRSS2) Cells (293-SARS2-S Cells) and by flow cytometry (293-SARS2-S-dfur Cells).
Applications

293-SARS2-S-dfur Cells: Screening patient/vaccinated sera and/or monoclonal antibodies against the SARS-CoV-2 Spike by flow cytometry.
293-SARS2-S Cells: Cell fusion assays for screening novel inhibitors of the SARS-CoV-2 Spike-host interaction using InvivoGen's permissive reporter cell lines (HEK-Blue™ hACE2(-TMPRSS2) and A549-Dual™ hACE2-TMPRSS2).

Learn more about InvivoGen's tools for cell fusion assays
➔ 293-SARS2-S-dfur cells have also been generated with the Spike of other variants of concern: Alpha (B.1.1.7), Beta (B.1.351), Gamma (P.1), Delta (B.1.617.2), and Omicron (BA.1).
These cells have been used to compare the activity of anti-SARS-CoV-2 Spike antibodies. See data
References:
1. Johnson, M.C. et al. 2020. Optimized Pseudotyping Conditions for the SARS-COV-2 Spike Glycoprotein. J Virol 94.
2. Ou, X. et al. 2020. Characterization of spike glycoprotein of SARS-CoV-2 on virus entry and its immune cross-reactivity with SARS-CoV. Nat Commun 11, 1620.
3. Coutard, B. et al. 2020. The spike glycoprotein of the new coronavirus 2019-nCoV contains a furin-like cleavage site absent in CoV of the same clade. Antiviral Res 176, 104742.
Back to the top
Specifications
Growth medium: DMEM, 4.5 g/L glucose, 2 mM L-glutamine, 10% (v/v) heat-inactivated fetal bovine serum (FBS), 100 U/ml penicillin, 100 µg/ml streptomycin, 100 µg/ml Normocin™
Antibiotic resistance: Blasticidin
Quality Control:
SARS-CoV-2 Spike gene expression has been verified by RT-PCR, flow cytometry, and/or functional fusion assays.
The stability for 20 passages, following thawing, has been verified for both cell lines.
These cells are guaranteed mycoplasma-free. 
InvivoGen's products are covered by a Limited Use License (See Terms and Conditions).
Back to the top
Contents
Please note: Each cell line is sold separately. See TDS for the exact contents of each cell line.
3-7 x 106 293-SARS2-S cells or 293-SARS2-S-dfur in a cryovial or shipping flask.
1 ml of Blasticidin (10 mg/ml). Store at 4 °C or at -20 °C.
1 ml of Normocin™ (50 mg/ml). Normocin™ is a formulation of three antibiotics active against mycoplasmas, bacteria, and fungi. Store at -20 °C.
IMPORTANT: If cells are shipped frozen (i.e. in a cryovial) and are not frozen upon arrival, contact InvivoGen immediately.

Shipped on dry ice (Europe, USA, Canada and some areas in Asia)
Back to the top
Details
SARS-CoV-2 Spike

Spike (S) is a structural glycoprotein expressed on the surface of SARS‑CoV-2. It mediates membrane fusion and viral entry into target cells upon binding to the host receptor, ACE2 and host proteolytic cleavage (e.g. TMPRSS2 and furin). The S protein consists of an N-terminal ectodomain, a transmembrane anchor, and a short C-terminal cytoplasmic tail. The ectodomain contains the S1 subunit, which encodes the receptor-binding domain (RBD), a key target in treatment and vaccination strategies against COVID-19, as well as the S2 subunit, needed for membrane fusion. Notably, the C-terminal cytoplasmic tail of the S protein encodes a presumptive endoplasmic reticulum (ER)-retention motif (KxHxx), which has previously been shown to enable the accumulation of SARS-CoV S proteins at the ER-Golgi intermediate compartment (ERGIC) and facilitate their incorporation into new virions.
Learn more about the SARS-CoV-2 Spike protein.
Back to the top