Caspase-8 inhibitor - Z-IETD-FMK
| Z-IETD-FMK | Unit size | Cat. code | Docs | Qty | Price |
| --- | --- | --- | --- | --- | --- |
| Specific inhibitor of Caspase-8 | 1 mg | inh-ietd | | | |
Caspase-8 inhibitor


Activation of apoptosis using Z-IETD-FMK
Z-IETD-FMK is a potent small-molecule inhibitor of Caspase-8 (CASP-8) [1,2]. CASP-8 plays a key role in regulated cell death, acting as an initiator of apoptosis but an inhibitor of necroptosis [2-4]. Thus, blockade of CASP-8 is necessary for the induction of necroptosis upon engagement of death receptors.

 Learn more on apoptosis and necroptosis
 

Mode of action:

The tetrapeptide IETD binds preferentially to the active site of CASP-8 [1,2]. The addition of a benzylocarboxonyl group (Z), O-methyl side chains, and a fluoromethyl ketone (FMK) group enhances Z‑IETD‑FMK cell permeability with no additional cytotoxic effects. Through the blockade of CASP-8, Z‑IETD‑FMK acts as an inducer of necroptosis.
Note: For full induction of necroptosis upon death receptor engagement, deubiquitination of RIPK1 is required. This can be achieved by blocking cIAP, responsible for the ubiquitination of RIPK1, using Smac mimetics such as BV6.
 

Key features:

Potent and selective inhibitor of Caspase-8
Suppresses RIPK1-dependent apoptosis
Contributes to TNF-α-induced RIPK1-dependent necroptosis 
Each lot is highly pure (≥95%) and functionally tested for necroptosis induction
References

1. Thornberry N.A. et al., 1997. A combinatorial approach defines specificities of members of the caspase family and granzyme B. Functional relationships established for key mediators of apoptosis. J Biol Chem. 272(29):17907-11.
2. Concha, N.O. & Abdel-Meguid, S.S. 2002. Controlling apoptosis by inhibition of caspases. Curr Med Chem. 9(6):713-26.
3. Barnhart B.C. & Peter M.E. 2003. The TNF receptor 1: a split personality complex. Cell. 114(2):148-150.
4. Bertheloot D. et al., 2021. Necroptosis, pyroptosis and apoptosis: an intricate game of cell death. Cellular & Molecular Immunology. 18:1106-1121.
Back to the top
Specifications
CAS number: 210344-98-2
Synonym: Z-Ile-Glu(O-ME)-Thr-Asp(O-Me) fluoromethyl ketone
Working concentration: 1-20 µM for cell culture assays
Solubility: 5 mM (3.27 mg/ml) in DMSO
Formula: C30H43FN4O11
Molecular weight: 654.68 g/mol
Quality control:
Purity: ≥95% (UHPLC)
The inhibitory activity of the product has been validated using in-house cellular assays with THP1-HMGB1-Lucia™ cells.
The absence of bacterial contamination (e.g. lipoproteins and endotoxins) has been confirmed using HEK-Blue™ TLR2 and HEK-Blue™ TLR4 cells.
Back to the top
Contents
1 mg Z-IETD-FMK (provided as a powder)

 Z-IETD-FMK is shipped at room temperature.

 Upon receipt, store at -20 °C.

 Resuspended product is stable for at least 6 months when properly stored.

 Avoid repeated freeze-thaw cycles.
Back to the top
Details
Chemical structure of Z-IETD-FMK: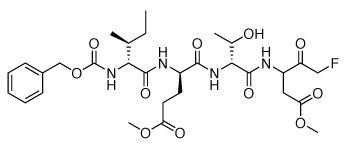 Back to the top