Anti-hCD19-βGal
| Anti-hCD19-βGal | Unit size | Cat. code | Docs | Qty | Price |
| --- | --- | --- | --- | --- | --- |
| Bispecific antibody against human CD19 and β-galactosidase; Negative control | 10 µg | bimab-hcd19bgal | | | |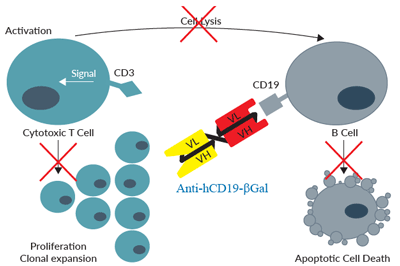 Anti-hCD19-βGal binds to hCD19 on B cells but not to hCD3 on T cells
Monoclonal scFv antibody against human CD19 and β-galactosidase; Negative control

Anti-hCD19-βGal is a bispecific antibody that binds to two sites: hCD19 expressed on the surface of B cells, and E. coli β-galactosidase (β-Gal). It is used as a negative control for Anti-hCD19-CD3 bispecific antibody that, alike Blinatumomab, engages unstimulated T cells to proliferate and exert cytotoxic activity on CD19-positive lymphoma cells [1,2].
References:
1. Krishnamurthy A. & Jimeno A., 2017. Bispecific antibodies for cancer therapy: A review. Pharmacol Ther. S0163-7258(17)30293-0.
2. Bargou R. et al., 2008. Tumor Regression in Cancer Patients by Very Low Doses of a T Cell– Engaging Antibody. Science. 321(5891):974-7. 
Back to the top
Specifications
Clonality: Monoclonal antibody.
Specificity: human CD19 and E. coli β-galactosidase (β-Gal).
Isotype: none (scFv).
Source: CHO (Chinese hamster ovary) cells.
Purity: Purified by affinity chromatography.
Quality control:
   Binding to hCD19 has been confirmed by flow cytometry.
   The inability of Anti-hCD19-βGal to induce T cell activation has been confirmed using cellular assays.
   The complete sequence of this antibody has been verified.
   The absence of bacterial contamination (e.g. lipoproteins and endotoxins) has been confirmed using HEK-Blue™ TLR2 and HEK-Blue™ TLR4 cells.
Back to the top
Contents
10 µg Anti-hCD19-βGal, purified antibody, provided azide-free and lyophilized.

Product is shipped at room temperature.

Store lyophilized antibody at -20°C.

Lyophilized product is stable for at least 1 year.
Back to the top