Jurkat-Lucia™ NFAT Cells
| Jurkat-Lucia™ NFAT Cells | Unit size | Cat. code | Docs | Qty | Price |
| --- | --- | --- | --- | --- | --- |
| NFAT-Luc Reporter T Lymphocytes | 3-7 x 10e6 cells | jktl-nfat | | | |
You may also need : Normocin™ - Antimicrobial Reagent | View more associated products ▼
NFAT-Luc Reporter T Lymphocytes

Jurkat-Lucia™ NFAT cells were derived from the human T Lymphocyte-based Jurkat cell line by stable integration of an NFAT-inducible Lucia reporter construct. The Lucia gene, which encodes a secreted coelenterazine-utilizing luciferase, is driven by an ISG54 minimal promoter fused to six copies of the NFAT consensus transcriptional response element.
Jurkat-Lucia™ NFAT cells induce the activation of NFAT in response to PMA and ionomycin, and T-lymphocyte mitogens, such as concanavalin A (ConA) and phytohemagglutinin.
Jurkat-Lucia™ NFAT cells can be used for the study of NFAT activation following stimuli treatments by monitoring Lucia luciferase activity. Levels of Lucia luciferase are readily measurable in the cell culture supernatant when using QUANTI-Luc™, a Lucia luciferase detection reagent.
Jurkat-Lucia™ NFAT cells are resistant to the selective antibiotic Zeocin™.
Back to the top
Contents

Shipped on dry ice  (Europe, USA & Canada)
Back to the top
Description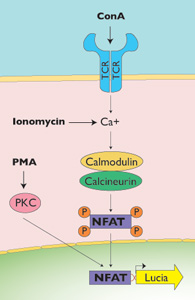 NFAT (nuclear factor of activated T cells) proteins are a family of transcription factors that are important in the development and function of the immune system. In T cells, NFAT proteins regulate thymocyte development, T cell activation, differentiation and self-tolerance. Their activation is induced by the engagement of the T cell receptor (TCR) that is coupled to the calcium-signaling pathway. Calcium binds calmodulin and activates calcineurin, which in turn dephosphorylates NFAT proteins inducing their nuclear translocation and activation, and the transcription of specific responsive genes.
Back to the top
Details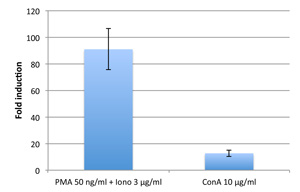 Jurkat-Lucia™ NFAT cells induced by PMA+ionomycin, or by T-lymphocyte mitogen concanavalin A (ConA).
Back to the top