PRACTICAL GUIDE: CELL CULTURE CONTAMINATION
This comprehensive guide highlights the different categories of cell culture contaminants and how they can impact your research. In this issue, we also present InvivoGen's highly cited reagents and frequently asked questions to help you keep your valuable cells safe from any contamination.
Microbial contamination of cell cultures is a serious and relentless threat to your research. Invasive mycoplasma, bacteria, and fungi can kill or drastically alter cells in culture, leading to disastrous results, lost time, and wasted resources.
This brochure provides an insight into the contaminants that are most likely to invade your cultures, the good practices to avoid them, and the solutions to eliminate them.
As experts in innate immunity and microbiology, we know how these biological contaminants can interfere with experimental results. While bacterial and fungal contaminations are eventually detected by the naked eye, mycoplasma and endotoxins remain invisible. Undetected contaminants are a serious concern, as they may have led to data misinterpretation, many of which have been published. As a consequence, journals now frequently ask for evidence of absence of mycoplasma and endotoxins in cell cultures. Moreover, pharmaceutical companies developing future therapeutics cannot afford contaminations as they will compromise their research and reputation.
At InvivoGen, we strive for excellence. We provide high-quality products and mycoplasma-free cell lines all around the world.
This guide will help you address every stage of microbial infection, and choose the right InvivoGen product to detect, eliminate, and prevent contaminations in your cell cultures.
SUMMARY :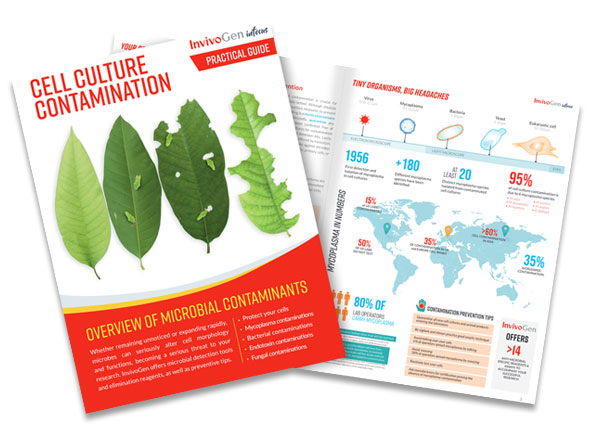 A PRACTICAL GUIDE TO AVOID CELL CULTURE CONTAMINATION

PROTECT YOUR CELL CULTURE FROM CONTAMINATION

Detection
Prevention
Elimination
MYCOPLASMA CONTAMINATIONS

Mycoplasma features
Major impacts of mycoplasma contamination on cell functions
DETECTION OF MYCOPLASMA

ELIMINATION OF MYCOPLASMA

Tips for successful mycoplasma elimination
A preventive & removal treatment : Plasmocin®
An alternative removal treatment : Plasmocure™
ELIMINATION OF BACTERIAL CONTAMINATIONS

Contamination preventive reagent : Normocin™
Multidrug-resistant bacteria removal agent : Normocure™
Anti-microbial agent for primary cells : Primocin®
DETECTION OF ENDOTOXINS IN BIOLOGICAL REAGENTS

FUNGAL CONTAMINATIONS

How to detect fungal contamination in cell cultures?
ELIMINATION OF FUNGI

Preventive and removal treatments : Fungin™