pDRIVE-EF1
| pDRIVE-mEF1 | Unit size | Cat. code | Docs | Qty | Price |
| --- | --- | --- | --- | --- | --- |
| pDRIVE bearing mouse EF1 promoter - LacZ | 20 µg | pdrive-mef1 | | | |
| pDRIVE-rEF1 | Unit size | Cat. code | Docs | Qty | Price |
| --- | --- | --- | --- | --- | --- |
| pDRIVE bearing rat EF1 promoter - LacZ | 20 µg | pdrive-ref1 | | | |
| pDRIVE-chEF1 | Unit size | Cat. code | Docs | Qty | Price |
| --- | --- | --- | --- | --- | --- |
| pDRIVE bearing chimpanzee EF1 promoter - LacZ | 20 µg | pdrive-chef1 | | | |
| pDRIVE5SEAP-mEF1 | Unit size | Cat. code | Docs | Qty | Price |
| --- | --- | --- | --- | --- | --- |
| pDRIVE bearing mouse EF1 promoter - SEAP | 20 µg | pdrive5s-mef1 | | | |
| pDRIVE5SEAP-rEF1 | Unit size | Cat. code | Docs | Qty | Price |
| --- | --- | --- | --- | --- | --- |
| pDRIVE bearing rat EF1 promoter - SEAP | 20 µg | pdrive5s-ref1 | | | |
| pDRIVE5SEAP-chEF1 | Unit size | Cat. code | Docs | Qty | Price |
| --- | --- | --- | --- | --- | --- |
| pDRIVE bearing chimpanzee EF1 promoter - SEAP | 20 µg | pdrive5s-chef1 | | | |
| pDRIVE5Lucia-mEF1 | Unit size | Cat. code | Docs | Qty | Price |
| --- | --- | --- | --- | --- | --- |
| pDRIVE bearing mouse EF1 promoter - Lucia | 20 µg | pdrive5lc-mef1 | | | |
| pDRIVE5Lucia-rEF1 | Unit size | Cat. code | Docs | Qty | Price |
| --- | --- | --- | --- | --- | --- |
| pDRIVE bearing rat EF1 promoter - Lucia | 20 µg | pdrive5lc-ref1 | | | |
| pDRIVE5Lucia-chEF1 | Unit size | Cat. code | Docs | Qty | Price |
| --- | --- | --- | --- | --- | --- |
| pDRIVE bearing chimpanzee EF1 promoter - Lucia | 20 µg | pdrive5lc-chef1 | | | |
EF1 promoter (Ubiquitous) in pDRIVE expression plasmid

The EF-1 alpha gene encoding elongation factor-1 alpha is an enzyme which catalyzes the GTP-dependent binding of aminoacyl-tRNA to ribosomes.
EF-1α is one of the most abundant proteins in eukaryotic cells and is expressed in almost all kinds of mammalian cells.
The promoter of this 'housekeeping' gene exhibits a strong activity, higher than viral promoters such as SV40 and RSV promoters [1] and, on the contrary to the CMV promoter, yields persistent expression of the transgene in vivo [2].
InvivoGen has cloned the EF-1α promoter region of different species, among them the chimpanzee and rat. These sequences have not been described yet.
They share respectively 98.46, 47.73 and 45.05% homology with the sequence of the human EF-1α promoter.
References:
1. Kim DW. et al. 1990. Use of human elongation factor 1 alpha promoter as a versatile and efficient expression system. Gene. 91(2):217-23.
2. Guo ZS. et al. 1996. Evaluation of promoter strength for hepatic gene expression in vivo following adenovirus-mediated gene transfer. Gene Ther. 3(9):802-10.
Back to the top
pDRIVE contents
20 µg of lyophilized DNA
1 ml of Zeocin™ (100 mg/ml)

Product is shipped at room temperature
Back to the top
Details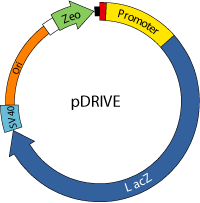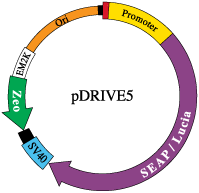 Back to the top