pMONO-blasti
| pMONO-blasti-mcs | Unit size | Cat. code | Docs | Qty | Price |
| --- | --- | --- | --- | --- | --- |
| Expression plasmid with blasticidin resistance gene | 20 µg | pmonob-mcs | | | |
| pMONO-blasti-GFP | Unit size | Cat. code | Docs | Qty | Price |
| --- | --- | --- | --- | --- | --- |
| Expression plasmid with blasticidin resistance gene | 20 µg | pmonob-gfp | | | |
pMONO-blasti cloning plasmids are specifically designed for strong and constitutive expression of a gene of interest in a wide variety of cell lines.
They allow the selection of stable transfectants with a blasticidin selectable marker.
pMONO-blasti plasmids carry either a multiple cloning site (MCS) or a green fluorescent protein (GFP) reporter gene downstream of the promoter.
Back to the top
Specifications
- Strong and Ubiquitous Expression of the Transgene
- Convenient cloning of a gene of interest whith a Multiple Cloning Site
- Selectable with blasticidin in mammalian cells and E.coli
Back to the top
Contents
20 µg of lyophilized DNA
2 x 1 ml blasticidin at 10 mg/ml

Product is shipped at room temperature.

Lyophilized DNA should be stored at -20 ̊C.

Resuspended DNA should be stored at -20 ̊C and is stable up to 1 year.

Blasticidin is a harmful compound. Refer to safety data sheet for handling instructions.
Store blasticidin at 4°C or -20°C.
Avoid repeated freeze-thaw cycles.
Back to the top
Details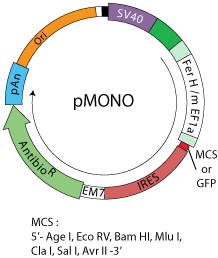 Back to the top