Lucia luciferase Gene
| pSELECT-zeo-Lucia | Unit size | Cat. code | Docs | Qty | Price |
| --- | --- | --- | --- | --- | --- |
| Lucia luciferase Reporter Gene in expression plasmid | 20 µg | psetz-lucia | | | |
Lucia luciferase Reporter Gene in expression plasmid

InvivoGen provides the Lucia secreted luciferase reporter gene in the pSELECT-zeo plasmid.
It can be used in vivo and in vitro to transfect mammalian cells stably or transiently.
Lucia luciferase gene expression is driven by the EF-1α/HTLV composite promoter that combines the elongation factor 1 alpha core promoter and the 5'untranslated region of the Human T-cell Leukemia Virus.
The pSELECT-zeo-Lucia plasmid contains the zeocin resistance marker for selection in both mammalian cells and bacteria.
Back to the top
Contents
Lucia luciferase reporter gene is provided as 20 µg of lyophilized DNA.
It is supplied with:

Product is shipped at room temperature.
Back to the top
Description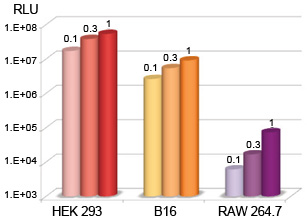 High signal sensitivity.
The human embryonic kidney HEK293, the murine melanoma B16 and the murine macrophage RAW 264.7 cell
lines were transiently transfected with 0.1, 0.3 or 1 µg/ml of pSELECT-Lucia-zeo plasmid using the transfection reagent LyoVec™.
Forty-eight hours after transfection, cell supernatants were assessed for luciferase activity using QUANTI-Luc™.
Back to the top
Details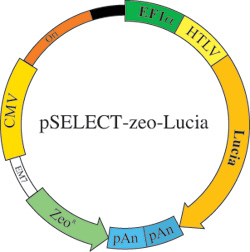 Back to the top