A PRACTICAL GUIDE TO UNDERSTANDING INFLAMMASOMES
In 2002, the discovery of inflammasomes was a breakthrough in the understanding of how inflammation is initiated.
InvivoGen offers a comprehensive collection of tools to assist your research on these inflammatory signaling hubs.
Inflammation is an innate immune reaction that aims to resolve various types of threats, including microbial infections, allergies, and auto-immune conditions. One major inflammation effector is the IL-1β cytokine, identified in the 1980's. It took two decades to characterize and assemble the different puzzle pieces that lead to this cytokine's secretion. The discovery of inflammasomes was a major breakthrough in the understanding of inflammation initiation. Inflammasomes are cytosolic multiprotein complexes, whose formation is triggered by sensors of pathogen-associated molecular patterns (PAMPs) and danger-associated molecular patterns (DAMPs). Inflammatory caspases may fulfill the function of a sensor and/or mediator of downstream effectors. While inflammasomes are beneficial in clearing microbes, their aberant or excessive stimulation contributes to various pathologies, such as auto-inflammatory disorders, cardiometabolic and neurodegenerative diseases, as well as cancer.
InvivoGen has developed a large collection of cellular assays, ligands, and inhibitors, to assist your research in this limitless field.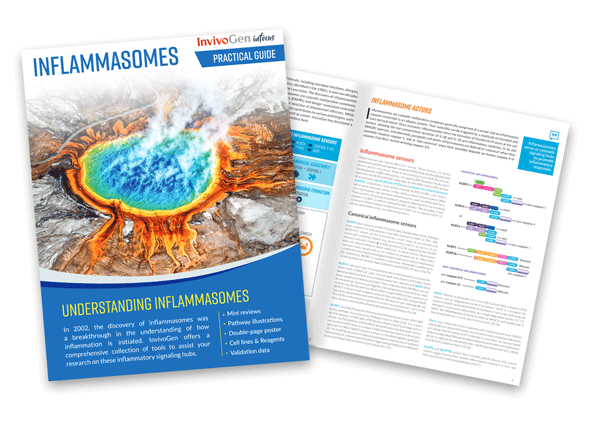 SUMMARY:

Inflammasome actors

Inflammasome sensors
Adaptors
Effectors
Inflammasome cellular assays

Monitoring NLRP3-dependent responses
Monitoring NLRC4-dependent responses
Monitoring ASC-dependent responses
Monitoring CASP-1-dependent responses
Monitoring CASP-4-dependent responses
Inflammasome activation and assembly

A "two-step" activation model
NLRP3 inflammasome
NLRC4/NAIP inflammasome
CASP-11 & CASP-4/5 non-canonical inflammasomes
Inflammasome activation & responses at a glance

Inflammasome inducers

Canonical inflammasome inducers
Non-canonical inflammasome inducers
Pyroptosis and gasdermin D

Gasdermin D cellular assay

Monitoring GSDMD-dependent responses
Inflammasome Regulation

Priming agents

Assessing inflammasome activation

Monitoring ASC-specks in real-time
Monitoring pyroptotic cell death
Monitoring IL-1β and IL-18 secretion
Inflammasome inhibitors

Caspase inhibitors
Multi-target inhibitors
NLRP3 inhibitors
Inflammasomes in disease

References