pFUSEN-hG2Fc
| pFUSEN-hG2Fc | Unit size | Cat. code | Docs | Qty | Price |
| --- | --- | --- | --- | --- | --- |
| Fc-fusion protein expression plasmid - Human IgG2 | 20 µg | pfcn-hg2 | | | |
pFUSEN-hG2Fc is a cloning plasmid for the generation of a Fc-fusion protein expressing the Fc region (CH2 and CH3 domains) of the human IgG2 heavy chain and the hinge region.
Human IgG2-Fc displays low affinity towards FcγRs and complement receptors. This Fc domain is more suitable for applications for which ADCC and CDC are not desirable.
Back to the top
Specifications
Isotype: Human IgG2
Effector Activities: ADCC+/-, CDC +
Selectable with Zeocin™ in E. coli and mammalian cells.
For transient or stable transfection.
Back to the top
pFUSEN Contents
20 µg of lyophilized DNA
1 ml of Zeocin™ (100 mg/ml)

Product is shipped at room temperature
Back to the top
Details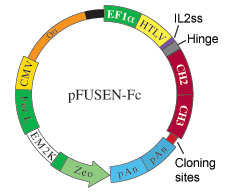 Back to the top