pDRIVE-HSP70
| pDRIVE-hHSP70 | Unit size | Cat. code | Docs | Qty | Price |
| --- | --- | --- | --- | --- | --- |
| pDRIVE bearing human HSP70 promoter - LacZ | 20 µg | pdrive-hhsp70 | | | |
| pDRIVE5SEAP-hHSP70 | Unit size | Cat. code | Docs | Qty | Price |
| --- | --- | --- | --- | --- | --- |
| pDRIVE bearing human HSP70 promoter - SEAP | 20 µg | pdrive5s-hhsp70 | | | |
| pDRIVE5Lucia-hHSP70 | Unit size | Cat. code | Docs | Qty | Price |
| --- | --- | --- | --- | --- | --- |
| pDRIVE bearing human HSP70 promoter - Lucia | 20 µg | pdrive5lc-hhsp70 | | | |
| pDRIVE-mHSP70 | Unit size | Cat. code | Docs | Qty | Price |
| --- | --- | --- | --- | --- | --- |
| pDRIVE bearing mouse HSP70 promoter - LacZ | 20 µg | pdrive-mhsp70 | | | |
| pDRIVE5SEAP-mHSP70 | Unit size | Cat. code | Docs | Qty | Price |
| --- | --- | --- | --- | --- | --- |
| pDRIVE bearing mouse HSP70 promoter - SEAP | 20 µg | pdrive5s-mhsp70 | | | |
| pDRIVE5Lucia-mHSP70 | Unit size | Cat. code | Docs | Qty | Price |
| --- | --- | --- | --- | --- | --- |
| pDRIVE bearing mouse HSP70 promoter - Lucia | 20 µg | pdrive5lc-mhsp70 | | | |
HSP70 promoter (Ubiquitous, heat-inducible) in pDRIVE expression plasmid

Heat inducible
The HSP70 gene encodes a major stress-inducible heat shock protein (HSP70) which plays an important role in protecting cells from deleterious stresses. Hsp70 is expressed constitutively in a wide variety of cells at normal growth temperatures.
Its expression is induced by various physiological stresses, including exposure to heat shock and heavy metal, or under non-stress conditions, such as in response to serum stimulation.
The HSP70 promoter contains at least two regulatory domains, a distal domain responsive to heat shock or heavy metals and a proximal domain responsive to stimulation by serum [1].
The activity of the HSP70 promoter can be induced by moderate hyperthermia (39°C to 43°C) [2], reaching expression levels similar to those of the CMV promoter.
References:
1. Wu BJ. Kingston RE, Morimoto RI. 1986. Human HSP70 promoter contains at least two distinct regulatory domains. Proc Natl Acad Sci USA. 83(3):629-33.
2. Huang Q. et al. 2000. Heat-induced gene expression as a novel targeted cancer gene therapy strategy. Cancer Res. 60(13):3435-9.
Back to the top
pDRIVE contents
20 µg of lyophilized DNA
1 ml of Zeocin™ (100 mg/ml)

Product is shipped at room temperature
Back to the top
Details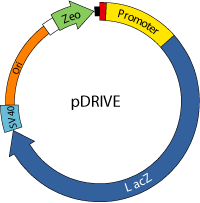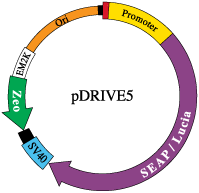 Back to the top