Non-glycosylated Anti-hVISTA mAb
| Anti-hVISTA-hIgG1NQ | Unit size | Cat. code | Docs | Qty | Price |
| --- | --- | --- | --- | --- | --- |
| Recombinant monoclonal human IgG1NQ antibody against human VISTA | 100 µg | hvista-mab12 | | | |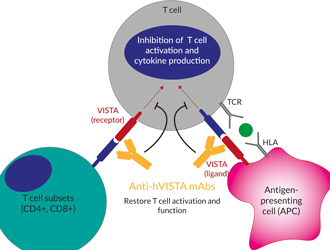 VISTA in the context of immunotherapy
Non-glycosylated recombinant Anti-hVISTA mAb

Anti-hVISTA-hIgG1NQ is a recombinant monoclonal antibody (mAb) featuring a variable region that recognizes human VISTA, a member of the CD28/B7 protein superfamily, and a non-glycosylated constant region of the human IgG1 (hIgG1NQ) isotype.  
V-domain Ig-containing suppressor of T-cell activation (VISTA), also known as programmed death-1 homolog (PH-1H) is a known immune checkpoint, that directly suppresses T cell activation, proliferation, and cytokine production [1]. VISTA can be considered both a ligand and a receptor, whereby it transmits inhibitory signals to T cells, either extrinsically, through expression on myeloid cells (i.e. macrophage and dendritic cells) and binding to an unknown receptor on T cells, or intrinsically, through its expression on T cells (i.e. CD4+, CD8+) [2]. In the context of cancer immunotherapy, VISTA has been found to be heightened on cells that infiltrate the tumor microenvironment (TME) and not the tumor cells themselves, therefore, VISTA blocking antibodies are of interest. These function to inhibit the engagement of VISTA with its receptor on T cells or by directly targeting VISTA expressed on naïve and effector T cells, preventing it from providing negative signaling [1, 2].  
Features of Anti-hVISTA-hIgG1NQ:

Targets specifically human VISTA
Features the hIgG1NQ constant region for abrogated effector function
Functionally validated by flow cytometry
Anti-hVISTA-hIgG1NQ contains an N-glycosylation mutation in the constant region of human IgG1. Potential asparagine (N) glycosylation sites are substituted by glutamine (Q) residues, resulting in the production of a non-glycosylated antibody. Glycosylation of an antibody has no effect on antigen binding but is essential for Fc receptor-mediated activity, and therefore, the effector function of Anti‑hVISTA‑hIgG1NQ is severely compromised. Anti-hVISTA-hIgG1NQ was generated by recombinant DNA technology, produced in CHO cells, and purified by affinity chromatography with protein G.
References:
1. Nowak, E.C. et al. 2017. Immunoregulatory functions of VISTA. Immunol Rev 276, 66-79.
2. Xu, W. et al. 2018. The structure, expression, and multifaceted role of immune-checkpoint protein VISTA as a critical regulator of anti-tumor immunity, autoimmunity, and inflammation. Cell Mol Immunol 15, 438-446.
Back to the top
Specifications
Specificity: Targets cells expressing human VISTA (V-domain Ig containing suppressor of T-cell activation)
Clonality: Monoclonal antibody
Isotype: Human IgG1, kappa
Source: CHO cells
Formulation: 0.2 μm filtered solution in a sodium phosphate buffer with glycine, saccharose, and stabilizing agents.
Purification: Purified by affinity chromatography with protein G
Applications: Anti-hVISTA-hIgG1NQ binds and blocks ligand activation of the VISTA receptor found on the surface of cells
Quality control:
Binding of Anti-hVISTA-hIgG1NQ to human VISTA on cells has been validated using flow cytometry.
The complete sequence of the antibody has been verified.
The absence of bacterial contamination (e.g. lipoproteins and endotoxins) has been confirmed using HEK-Blue™ TLR2 and HEK-Blue™ TLR4 cellular assays.
Back to the top
Contents
100 µg Anti-hVISTA-hIgG1NQ purified antibody (provided azide-free and lyophilized)

Product is shipped at room temperature.

Store lyophilized antibody at -20 °C.

Lyophilized product is stable for at least 1 year
Back to the top