LFn-Rod
| LFn-Rod | Unit size | Cat. code | Docs | Qty | Price |
| --- | --- | --- | --- | --- | --- |
| T3SS Inner Rod protein fused to Lethal Factor - NLRC4 agonist | 50 µg | tlrl-rod | | | |
You may also need : NLRC4 KO RAW-ASC Cells | View more associated products ▼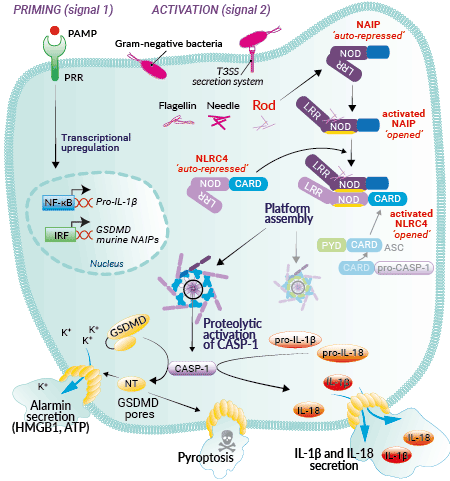 NLRC4/NAIP inflammasome activation with Rod
Mouse NLRC4/NAIP Inflammasome Inducer

InvivoGen provides LFn-Rod, a model of NLRC4/NAIP inflammasome agonist [1-3]. The Inner Rod protein is a component of the type III secretion systems (T3SS) of intracellular bacteria described as an NLRC4/NAIP ligand [1-5]. It is fused to the amino-terminal domain of B. anthracis lethal factor (LFn). This fusion system, when co-administred with the anthrax toxin's protective antigen (PA), allows intracellular delivery of the bacterial ligand [6]. The combination of LFn-Rod with the anthrax protective antigen (PA) is named Rod-Tox [3].
InvivoGen's LFn-Rod recombinant protein features S. typhimurium T3SS Inner Rod protein [M1-S101] fused to the amino-terminal domain [A34-R296] of anthrax toxin's lethal factor (LFn) protein in N-terminal. Its ability to induce the murine NLRC4 inflammasome has been validated using RAW-ASC and RAW-ASC KO-NLRC4 cell lines.
LFn-Needle is also available and is a potent inducer of human NLRC4/NAIP inflammasome.
NLRC4 background:

The NLRC4 (aka Ipaf) inflammasome is an intracellular multi-protein complex that plays a central role in innate immunity [7, 8]. It is activated by a two-step process; a first signal ('priming') is provided by microbial molecules such as TLR ligands, while the second signal is provided by intracellular bacterial molecules such as Flagellin from the motility apparatus, or Inner Rod and Needle proteins from the bacterial type III or IV secretion systems (T3SS or T4SS). NLCR4 is an indirect sensor: it interacts with NAIPs (NLR family apoptosis inhibitory proteins) that directly bind to Flagellin, Needle, and Inner Rod. While a single NAIP operates upstream of NLRC4 in humans and recognizes each of these activators [9], multiple NAIPs have been described in mice with different affinities for each molecule [1-4]. The NLRC4 inflammasome appears to protect mucosal barriers, such as the lung, stomach, and intestine, from invading bacteria [8]. 
Features of LFn-Rod:

Inner Rod (PrgJ) from S. typhimurium T3SS
Potent inducer of the murine NLRC4 inflammasome in vitro
Produced in Sf9 insect cells
Each lot is functionally tested
References:
1. Zhao Y. et al., 2011. The NLRC4 inflammasome receptors for bacterial flagellin and type III secretion apparatus. Nature. 477(7366):596-600.
2. Kofoed E.M. & Vance R.E., 2011. Innate immune recognition of bacterial ligands by NAIPs determines inflammasome specificity. Nature. 477(7366):592-595.
3. Rauch I. et al., 2016. NAIP proteins are required for cytosolic detection of specific bacterial ligands in vivo. The Journal of Exp. Med. 213(5):657-665.
4. Zhao Y. et al., 2016. Genetic functions of the NAIP family of inflammasome receptors for bacterial ligands in mice. J Exp Med. 213(5):647-656.
5. Worrall L.J. et al., 2011. Structural overview of the bacterial injectisome. Curr Opin Microbiology. 14(1):3-8.
6. Ballard J.D. et al., 1996. Anthrax toxin-mediated delivery of a cytotoxic T-cell epitope in vivo. PNAS. 93(22):12531-12534.
7. Platnich J.M. & Muruve D.A., 2019. NOD-like receptors and inflammasomes: A review of their canonical and non-canonical signaling pathways. Arch Biochem Biophys. 670:4-14.
8. Bauer R. & Rauch I., 2020. The NAIP/NLRC4 inflammasome in infection and pathology. Mol Aspects Med. 76:100863.
9. Yang J. et al., 2013. Human NAIP and mouse NAIP1 recognize bacterial type III secretion needle protein for inflammasome activation. PNAS. 110(35):14408-14413.
Back to the top
Specifications
LFn-Rod

Protein construction: T3SS Inner Rod (PrgJ) protein [M1-S101] fused to the amino-terminal domain [A34-R296] of anthrax toxin's lethal factor (LFn) protein in N-terminal.
Accession sequence: WP_00002043 (Inner Rod; PrgJ sequence)
Species: Salmonella typhimurium

Source: 

Sf9 insect cells
Tag: N-terminal poly-histidine (6 x His)
Total protein size: 384 a.a. (secreted form)
Molecular weight: ~ 48 kDa (SDS-PAGE gel)
Purification: Ni2+ affinity chromatography

Purity: 

>90% (SDS-PAGE)

Quality control:


- The protein has been validated by functional assays using RAW-ASC and RAW-ASC KO-NLRC4 cell lines.
- The absence of bacterial contamination (e.g. lipoproteins and endotoxins) has been confirmed using HEK-Blue™ TLR2 and HEK-Blue™ TLR4 cellular assays.
Back to the top
Details
Note: B. anthracis protective antigen (PA) is not provided
50 μg of lyophilized LFn-Rod protein
1.5 ml of endotoxin-free water

 The product is shipped at room temperature.

 Lyophilized protein should be stored at -20 ̊C up to 6 months.

 Resuspended protein is stable up to 6 months when stored at -20°C
Avoid repeated freeze-thaw cycles.
Back to the top