Murine Anti-PD-L1 mAb
Anti-PD-L1-mIgG1e3 InvivoFit™
Unit size
Cat. code
Docs
Qty
Price

PD-L1 (atezolizumab) antibody - Mouse IgG1e3

1 mg

10 mg

50 mg

pdl1-mab15-1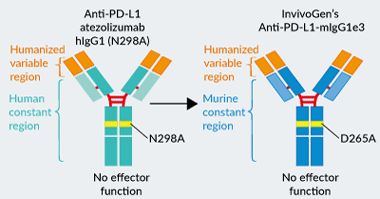 InvivoGen's engineered Anti-PD-L1-mIgG1e3 InvivoFit™ antibody
Recombinant mAb against murine PD-L1 for in vivo use

Anti-PD-L1-mIgG1e3 InvivoFit™ is a recombinant monoclonal antibody (mAb) designed for in vivo studies in mice. It features the variable region of the anti-PD-L1 atezolizumab [1] and the engineered murine IgG1e3 constant region.  Programmed cell death ligand 1 (PD-L1; also called B7-H1 or CD274) is a transmembrane protein expressed on antigen-presenting cells. PD-L1 binds to programmed cell death protein 1 (PD-1) on T cells and contributes to T cell exhaustion during chronic infections. Moreover, it has been shown that the engagement of PD-1 on T cells by PD-L1 on tumor cells is associated with the immune escape of tumors. Clinical trials have highlighted the anti-tumor efficacy of blockades targeting the PD-1/PD-L1 pathway [2].  
Atezolizumab (formerly known as MPDL3280A) is a therapeutic mAb that binds human and murine PD-L1, blocking the interaction with its receptor programmed cell death 1 (PD-1). Notably, atezolizumab contains an engineered constant region designed to limit effector functions, such as antibody-dependent cellular cytotoxicity (ADCC) and complement-dependent cytotoxicity (CDC) [3]. However, as it is a humanized antibody, it is immunogenic in mice. To overcome this issue, Anti-PD-L1-mIgG1e3 InvivoFit™ was generated by recombinant DNA technology so that it is ~65% murine (constant region). Importantly, its constant region contains a point mutation D265A (a replacement of aspartic acid by alanine at position 265), resulting in the complete loss of cytolytic effector functions [4].
Anti-PD-L1-mIgG1e3 is provided in an InvivoFit™ grade, a high-quality standard specifically adapted to in vivo studies.
Key features of Anti-PD-L1-mIgG1e3 InvivoFit™:

Derived from Atezolizumab (aka MPDL3280A), human IgG1
Feature mouse IgG1e3 isotype (constant region)
mIgG1e3 (IgG1 with a D265A point mutation) is effectorless
Filter-sterilized (0.2 µm), endotoxin level: 1 EU/mg
Suitable for parenteral delivery in mice (azide-free)
Low aggregation < 5%
Produced in animal-free facilities and defined media
Anti-PD-L1-mIgG1e3 InvivoFit™ is produced in Chinese hamster ovary (CHO) cells and purified by affinity chromatography with protein A.  Its binding is validated by flow cytometry and ELISA.
References:
1. Lesniak W.G. et al., 2016. PD-L1 Detection in Tumors Using [(64)Cu]Atezolizumab with PET. Bioconjug Chem. 27(9):2103-10.
2. McDermott D. & Atkins M. 2013. PD-1 as a potential target in cancer therapy. Cancer Med. 2(5): 662–673.
3. Herbst R.S. et al., 2014. Predictive correlates of response to the anti-PD-L1 antibody MPDL3280A in cancer patients. Nature. 515(7528):563-7.
4. Baudino L. et al., 2008. Crucial role of aspartic acid at position 265 in the CH2 domain for murine IgG2a and IgG2b Fc-associated effector functions. J Immunol. 181(9):6664-9.
Back to the top
Specifications
Specificity: Targets cells expressing murine or human PD-L1
Formulation: Lyophilized from 0.2 μm filtered solution in 150 mM sodium chloride, 20 mM sodium phosphate buffer with 5% saccharose
Clonality: Monoclonal antibody
Isotype: Murine IgG1e3 (D265A mutation; no effector function), kappa
Control: mIgG1e3 InvivoFit™ isotype control
Source: CHO cells
Purity: Purified by affinity chromatography with protein A
Tested applications: Flow cytometry and ELISA
Quality control:
Binding confirmed by flow cytometry
The complete sequence of this antibody has been verified
< 5% aggregates (confirmed by size exclusion chromatography)
Endotoxin level <1 EU/mg (determined by the LAL assay)
Back to the top
Contents
Anti-PD-L1-mIgG1e3 InvivoFit™ is Filter-sterilized (0.2 µm), endotoxin-free, azide-free, and lyophilized.
This product is available in three pack sizes:
pdl1-mab15-1 : 1 mg
pdl1-mab15-10 : 10 mg
pdl1-mab15-50 : 50 mg (5 x 10 mg)

 The product is shipped at room temperature.

 Store lyophilized antibody at -20 °C.

 Lyophilized product is stable for at least 1 year.

 Avoid repeated freeze-thaw cycles.
Back to the top
InvivoFit™
InvivoFit™ is a high-quality standard specifically adapted for in vivo studies. InvivoFit™ products are filter-sterilized (0.2 µm) and filled under strict aseptic conditions in a clean room. The level of bacterial contaminants (endotoxins and lipoproteins) in each lot is verified using a LAL assay and a TLR2 and TLR4 reporter assay.
Back to the top