Alum
| Alum Hydroxide | Unit size | Cat. code | Docs | Qty | Price |
| --- | --- | --- | --- | --- | --- |
| Aluminium hydroxide; NLRP3 inflammasome inducer | 500 µl | tlrl-aloh | | | |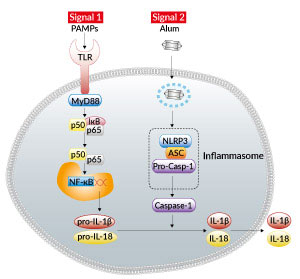 Inflammasome activation with Alum
NLRP3 Inflammasome Inducer

InvivoGen provides Alum Hydroxide, a ready‑to‑use suspension of aluminium hydroxide, designed for in vitro assays. Its ability to induce the NLRP3 inflammasome has been validated using THP1-Null cells. Of note, Alum Hydroxide induces significantly higher levels of IL-1β by THP1-Null cells than Alum Crystals, using the HEK-Blue™ IL-1β cellular assay.
Aluminium salts (also referred to as alum), such as aluminium hydroxide, aluminium phosphate, or potassium aluminium sulfate, are commonly used vaccine adjuvants, although their mode of action in vivo remains unclear. Comprehensive research in vitro clearly demonstrates that alum induces an NLRP3 inflammasome-dependent induction of interleukin-1β (IL-1β) and IL-18 [1]. The NLRP3 inflammasome is an intracellular multi-protein complex that plays a central role in innate immunity [2, 3].

 More details
Of note, alum has been shown to trigger NLRP3 activation through lysosomal destabilization [4].  Interestingly, in vivo studies indicate a minimal role for the NLRP3 inflammasome in alum's adjuvanticity [5]. The reason for this divergence between the in vitro and in vivo action of alum needs to be further investigated.
Key features of Alum Hydroxide:

Inducer of the NLRP3 inflammasome in vitro
Each lot is functionally tested

Read our review on the NLRP3 inflammasome.

Download our Practical guide on Inflammasomes.
References:
1. Li H. et al., 2008. Cutting Edge: Inflammasome activation by Alum and Alum's adjuvant effect are mediated by NLRP3. J Immunol. 181:17-21.
2. Schroder K. & Tschopp J., 2010. The inflammasomes. Cell 140(6):821-32.
3. Franchi L. et al.., 2012. . Sensing and reacting to microbes through the inflammasomes. Nat Immunol 13(4)325-32.
4. Hornung V. et al., 2008. Silica crystals and aluminium salts activate the NALP3 inflammasome through phagosomal destabilization. Nature Immunol. 9:847-856.
5. Wen Y. & Shi Y., 2016. Alum: an old dog with new tricks. Emerg Microbes Infect.5:e25.
Back to the top
Specifications
Working concentrations: 50 - 500 µg/ml
CAS number: 21645-51-2
Chemical formula: Al(OH)3
Molecular weight: 78 g/mol
Form: Liquid (a ready-to-use suspension)
Quality control:
The biological activity has been validated using cellular assays.
The absence of bacterial contamination (e.g. lipoproteins and endotoxins) has been confirmed using HEK-Blue™ TLR2 and HEK-Blue™ TLR4 cells.
Back to the top
Contents
500 µl of Alum Hydroxide (aluminium hydroxide suspension)
This product is provided as a white suspension at 30 mg/ml.

Product is shipped at room temperature

Store at room temperature. DO NOT FREEZE.
Back to the top
Details
The NLRP3 Inflammasome:

The NLRP3 inflammasome is an innate immune sensor that is activated by a two-step process; a first signal ('priming') provided mainly by bacterial components or endogenous cytokines involves NF-κB induction, while the second signal provided by a wide array of stimuli including microbial toxins, endogenous molecules or crystalline substances and leads to inflammasome assembly and activation [1, 2].  This triggers inflammasome multimerization and caspase-1 activation with the subsequent cleavage of interleukin-1β (IL-1β)/IL-18 and the pore-forming protein Gasdermin D (GSDMD) into their active forms. Additionally, the activation of the inflammasome also leads to alarmin secretion and pyroptosis, a form of immunogenic cell death.
1. Swanson K.V. et al., 2019. The NLRP3 inflammasome: molecular activation and regulation to therapeutics. Nat. Rev. Immunol. 19:477.
2. Groslambert M. & Py B. 2018. Spotlight on the NLRP3 inflammasome pathway. J. Inflamm. Res. 11:359.
 

THP-1/HEK-Blue™ IL-1β Assay

Alum can be used to induce the NLRP3 inflammasome in cellular assays, such as InvivoGen's  THP1/HEK-Blue™ IL-1β assay. This assay uses the secretion of IL-1β by THP1-Null cells as an indicator of NLRP3 inflammasome induction. The production IL-1β by these cells is measured using HEK-Blue™ IL-1β cells.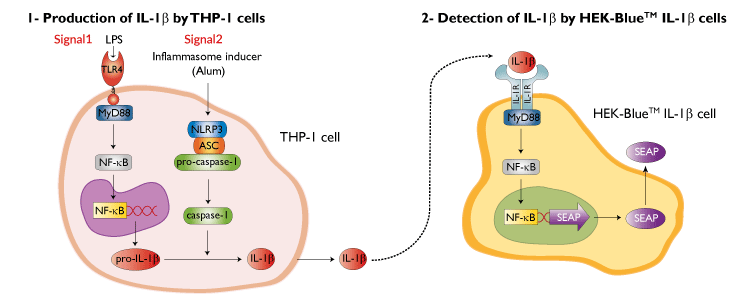 1- Production of IL-1β by THP-1 cells: Typically, THP1-Null cells are primed with lipopolysaccharide (LPS). These treatments induce the production of pro-IL-1β, the immature form of IL-1β. Subsequent stimulation with inflammasome inducers, such as Alum, leads to NRLP3 and caspase-1 activation resulting in IL-1β maturation and secretion.
2- Detection of IL-1β by HEK-Blue™ IL-1β cells: IL-1β-containing THP-1 supernatants are added to HEK-Blue™ IL-1β cells leading to NF-κB activation and the subsequent production of secreted embryonic alkaline phosphatase (SEAP). The presence of SEAP in HEK-Blue™ IL-1β supernatants is assessed using QUANTI-Blue™ Solution, a SEAP detection medium.
Back to the top