Literature

Follow us on

Follow us on

RAW-Lucia™ ISG-KO-STING Cells
STING knockout IRF-inducible Lucia luciferase reporter mouse macrophages
RAW-Lucia™ ISG-KO-STING cells were generated from the RAW-Lucia™ ISG cell line, which is derived from the murine RAW 264.7 macrophage cell line, through the stable knockout of the STING gene.
RAW-Lucia™ ISG-KO-STING cells express a secreted reporter gene, Lucia luciferase, under the control of the I-ISG54 promoter which is comprised of the IFN-inducible ISG54 promoter enhanced by a multimeric ISRE.
RAW 264.7 have been reported to express several CDSs, including cGAS [1]. RAW-Lucia™ ISG-KO-STING cells allow the monitoring of IRF activation by determining the activity of Lucia luciferase. The levels of IRF-induced Lucia in the cell culture supernatant can be easily monitored using QUANTI-Luc™, a Lucia luciferase detection reagent.
RAW-Lucia™ ISG-KO-STING cells are resistant to Zeocin™.
Figures for this product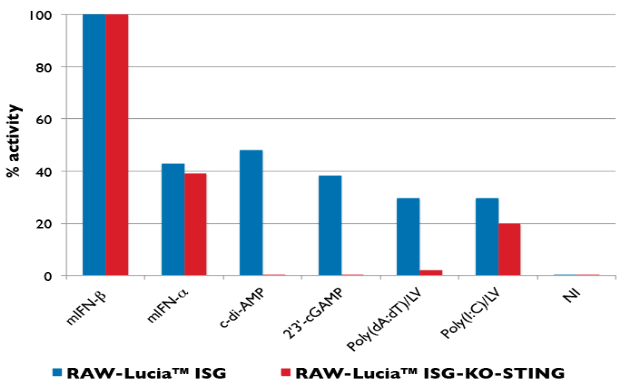 Specifications
Antibiotic resistance: Zeocin™
Growth Medium: DMEM, 4.5 g/l glucose, 10% fetal bovine serum (FBS), 100 µg/ml Normocin™, 2 mM L-glutamine
Quality Control: STING knockout is verified by functional assays and DNA sequencing to confirm frameshift mutation/deletion. The cells are guaranteed mycoplasma-free.
This product is covered by a Limited Use License (See Terms and Conditions).
Contents
1 vial containing 3-7 x 106 cells
100 μl Zeocin™ (100 mg/ml)
1 ml Normocin™ (50 mg/ml)
1 pouch of QUANTI-Luc™ (Luciferase detection medium)
Shipped on dry ice
Ref.
1. Lam E. et al., 2014. Adenovirus Detection by the cGAS/STING/TBK1 DNA Sensing Cascade. J Virol. 88(2):974-81.
Citations
Recent articles using InvivoGen RAW-Lucia™ ISG-KO-STING Cells
2017

- Nat Chem Biol., 13(2):210-217.
Inhibition of innate immune cytosolic surveillance by an M. tuberculosis phosphodiesterase.
Dey RJ. et al.


2015

- Science, 347(6227):aaa2630
Phosphorylation of innate immune adaptor proteins MAVS, STING, and TRIF induces IRF3 activation.
Liu S, Cai X, Wu J, Cong Q, Chen X, Li T, Du F, Ren J, Wu YT, Grishin NV, Chen ZJ


2015

- Nat Med., 21(4):401-6.
A bacterial cyclic dinucleotide activates the cytosolic surveillance pathway and mediates innate resistance to tuberculosis.
Dey B, Dey RJ, Cheung LS, Pokkali S, Guo H, Lee JH, Bishai WR.

ORDERING
RAW-Lucia™ ISG-KO-STING Cells
Description
Murine RAW 264.7 macrophages - STING Knockout IRF-reporter cells
Cat. Code
rawl-kostg
Unit Size
3-7 x 10e6 cells
Price
For price or distributor address,
please select your country
MOST POPULAR
Plasmocin™
Mycoplasma removal agent

More info
High quality ready-to-use selective antibiotics with purity levels exceeding 95%.