Literature

Follow us on

Follow us on

pFUSEN-Lucia-hG1e2Fc
Production of Lucia luciferase-tagged IgG1e2-Fc fusion protein
pFUSEN-Lucia-hG2Fc is a cloning plasmid for the generation of a Lucia luciferase-tagged engineered Fc-fusion protein expressing the Fc region (CH2 and CH3 domains) of the mutated human IgG1 heavy chain and the hinge region fused to the N-terminus of a protein of interest.
Lucia is a secreted luciferase reporter protein with advantageous characteristics when associated with Fc-fusion proteins. It possesses superior carrier ability for excellent secretion of the chimeric protein. It provides a simple means to screen for recombinant clones and it minimally affects the activity of the protein of interest.
Human IgG1e2-Fc contains mutations in the site of interaction of IgG1 with FcRn that enhance the plasma half-life by increasing the affinity of IgG1 for FcRn.
Specifications
Isotype: IgG1 human
Mutations: M252Y/S254T/T256E + H433K/N434F
Characteristics:
- Increased binding to neonatal FcR (FcRn)
- Increased half-life
Selectable with Zeocin™ in E. coli and mammalian cells.
For transient or stable transfection.
These products are covered by a Limited Use License (See Terms and Conditions).
Details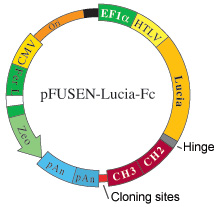 ORDERING
pFUSEN-Lucia-hG1e2Fc
Description
Engineered Fc Regions Lucia-Tagged
Cat. Code
pfcn-lchg1e2
Unit Size
20 µg
Price
For price or distributor address,
please select your country
MOST POPULAR
Plasmocin™
Mycoplasma removal agent

More info
High quality ready-to-use selective antibiotics with purity levels exceeding 95%.