Literature

Follow us on

Follow us on

Autophagy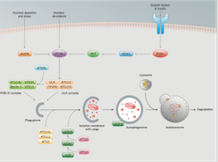 Click to enlarge
Autophagy is a pathway by which cytoplasmic constituents, including organelles and intracellular pathogens, are sequestred in a double-membrane-bound autophagosome and delivered to the lysosome for degradation.
The role of autophagy is to eliminate unwanted constituents from the cell and recycle cytoplasmic material allowing the cell to maintain macromolecular synthesis and energy homeostatis during starvation and other stressful conditions.

MOST POPULAR
Plasmocin™
Mycoplasma removal agent

More info
High quality ready-to-use selective antibiotics with purity levels exceeding 95%.