Literature

OVA Antigens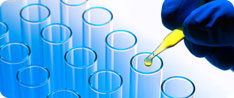 Ovalbumin (OVA) is a key reference protein for immunization and biochemical studies.
Ovalbumin is the major protein constituent of chicken egg whites. Ovalbumin is a glycoprotein that is sufficiently large and complex to be mildly immunogenic. Consequently, ovalbumin is widely used as an antigen for immunization experiments.
InvivoGen provides two grades of ovalbumin, EndoFit™ Ovalbumin for immunization use and Ovalbumin for detection use, and two standard OVA peptides for ELISPOT.