Literature

Follow us on

Follow us on

pFUSE-Lucia-hG1-Fc
Production of Lucia luciferase-Tagged IgG1-Fc fusion proteins
pFUSE-Lucia-hG1-Fc plasmid allows the production of Lucia luciferase-Tagged IgG1-Fc fusion proteins. This plasmid can be used to make recombinant Lucia luciferase-Tagged IgG1-Fc fusion proteins.
Lucia is a secreted luciferase reporter protein with advantageous characteristics when associated with Fc-fusion proteins. It possesses superior carrier ability for excellent secretion of the chimeric protein. It provides a simple means to screen for recombinant clones and it minimally affects the activity of the protein of interest.
Quantification of Lucia-Fc expression can be determined using QUANTI-Luc™.
Specifications
Isotype: Human IgG1
Gene / Cloning Site: Lucia (secreted luciferase)-MCS
Fc-Region: Native, no intron
This plasmid is selectable with Zeocin™.
These products are covered by a Limited Use License (See Terms and Conditions).
Contents
• 20 μg of lyophilized DNA
• 4 pouches of E. coli Fast-Media® Zeo (2 TB and 2 Agar)
Product is shipped at room temperature and should be stored at -20°C.
Plasmid is stable up to one year when properly stored.
Details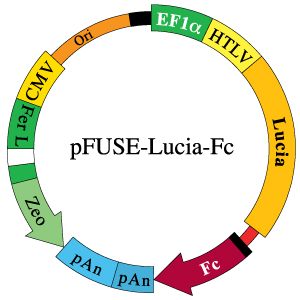 ORDERING
pFUSE-Lucia-hG1-Fc
Description
Lucia® Luciferase-tagged Fc-fusion plasmid
Cat. Code
pfuse-hg1lc
Unit Size
20 µg
Price
For price or distributor address,
please select your country
MOST POPULAR
Plasmocin™
Mycoplasma removal agent

More info
High quality ready-to-use selective antibiotics with purity levels exceeding 95%.