Literature

Follow us on

Follow us on

pBOOST3 mTBK1
Enhancement of DNA vaccine immunogenicity

pBOOST3-mTBK1 plasmid expresses the mouse TANK-binding kinase 1 (TBK1) gene. TBK1, a non-canonical IkB kinase, was recently shown to mediate the adjuvant effect of DNA vaccines [1]. Administration of DNA vaccines induces the production of type I interferons and inflammatory cytokines in a CpG-independent manner but in a TBK1-dependent manner. Therefore, co-administration of a TBK1-expressing plasmid is expected to further boost DNA vaccine-induced immunogenicity.

pBOOST3-mTBK1 contains the EF-1α/HTLV composite promoter coupled to the SV40 enhancer and is selectable in E. coli with Zeocin™.
Specifications
Gene: TBK1
Species: Murine
Backbone: pBOOST3
Selection: Zeocin
Enhancement of DNA vaccine immunogenicity
Contents
- 20 µg of lyophilized DNA
- 4 pouches of E. coli Fast-Media® Zeo (2 TB and 2 Agar)

Product is shipped at room temperature. Store at -20°C. Plasmids are stable up to one year when properly stored.
Details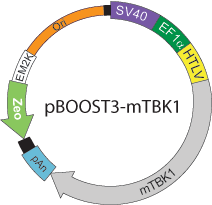 Ref.
1. Ishii KJ. et al., 2008. TANK-binding kinase-1 delineates innate and adaptive immune responses to DNA vaccines. Nature 451: 725-729
ORDERING
pBOOST3-mTBK1
Description
TBK1
Cat. Code
pbst3-mtbk1
Unit Size
20 µg
Price
For price or distributor address,
please select your country
MOST POPULAR
Plasmocin™
Mycoplasma removal agent

More info
High quality ready-to-use selective antibiotics with purity levels exceeding 95%.