Literature

Follow us on

Follow us on

pFUSEN-mG2aFc
pFUSEN-mG2aFc is a cloning plasmid for the generation of a Fc-fusion protein expressing the Fc region (CH2 and CH3 domains) of the murine IgG2a heavy chain and the hinge region.
Mouse IgG2a-Fc is the murine equivalent of human IgG1-Fc. It has moderate to high affinity for FcγRs and complement receptors, inducing strong ADCC and CDC.
Specifications
Isotype : IgG2A mouse
Effector Activities : ADCC+++, CDC +++
Selectable with Zeocin™ in E. coli and mammalian cells.
For transient or stable transfection.
Details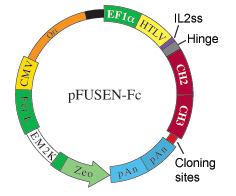 ORDERING
pFUSEN-mG2aFc
Description
Fc-fusion protein expression plasmid - Mouse IgG2a
Cat. Code
pfcn-mg2
Unit Size
20 µg
Price
For price or distributor address,
please select your country
MOST POPULAR
Plasmocin™
Mycoplasma removal agent

More info
High quality ready-to-use selective antibiotics with purity levels exceeding 95%.