THP1-Dual™ KO-TREX1 Cells
| THP1-Dual KO-TREX1 Cells | Unit size | Cat. code | Docs | Qty | Price |
| --- | --- | --- | --- | --- | --- |
| Human THP-1 Monocytes - TREX1 knockout NF-κB-SEAP and IRF-Lucia Reporter Cells | 3-7 x 10e6 cells | thpd-kotrex | | | |
Notification:  This product is for internal research use only. Additional rights may be available. Please visit InvivoGen's Terms and Conditions.
TREX1 knockout NF-κB-SEAP and IRF-Lucia luciferase reporter monocytes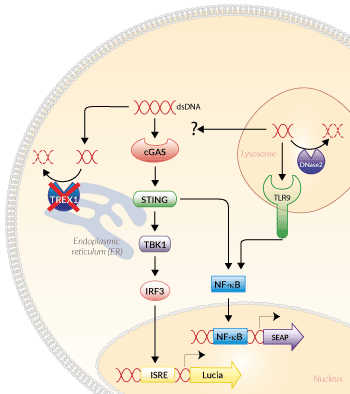 Signaling pathways in THP1-Dual™ KO-TREX1 Cells
THP1-Dual™ KO-TREX1 cells were generated from THP1-Dual™ cells by stable biallelic knockout of the TREX1 gene. Human THP1 monocytes or derived macrophages are a common cellular model to study DNA sensing as they naturally express all cytosolic DNA sensors identified so far (except DAI). THP1-Dual™ KO-TREX1 cells feature two inducible reporter genes allowing the concomitant study of the IRF and NF-κB pathways, by monitoring the Lucia luciferase and SEAP (secreted embryonic alkaline phosphatase) activities, respectively.
TREX1 (three prime repair exonuclease 1) is a major cellular 3'->5' exonuclease that plays a crucial role in maintaining immune homeostasis [1,2].

 More details
 

Key features:

Biallelic knockout of the TREX1 gene
Functionally validated with a selection of PRR ligands and cytokines
Readily assessable Lucia luciferase and SEAP reporter activities
InvivoGen also offers:

Applications:

Study of IRF and NF-kB-dependent TREX1 signaling pathways
Screening of interactions between TREX1 and other signaling protein
Study the role of TREX1 in innate immunity
1. Kavanagh D. et al., 2008. New roles for the major human 3'-5' exonuclease TREX1 in human disease. Cell Cycle. 7(12):1718-25.
2. Hasan M. & Yan N., 2014. Safeguard against DNA sensing: the role of TREX1 in HIV-1 infection and autoimmune diseases. Front Microbiol. 5:193.
Back to the top
Specifications
Growth medium: RPMI 1640, 2 mM L-glutamine, 25 mM HEPES, 10% heat-inactivated fetal bovine serum,  Pen-Strep (100 U/ml-100 μg/ml), 100 μg/ml Normocin™.
Antibiotic resistance: Blasticidin,  Zeocin®
Quality control: 
Biallelic TREX1 gene knockout has been verified by PCR, western blot, sequencing

and functional assays.

The stability of this cell line for 20 passages following thawing has been verified.
THP1-Dual™ KO-TREX1 cells are guaranteed mycoplasma-free.
This product is covered by a Limited Use License (See Terms and Conditions).
Back to the top
Contents
1 vial of THP1-Dual™ KO-TREX1 cells (3-7 x 106 cells) in freezing medium
1 ml of Normocin™ (50 mg/ml). Normocin™ is a formulation of three antibiotics active against mycoplasmas, bacteria and fungi.
1 ml of Zeocin® (100 mg/ml)
1 ml of Blasticidin (10 mg/ml)
1 tube of QUANTI-Luc™ 4 Reagent, a Lucia luciferase detection reagent (sufficient to prepare 25 ml)
1 ml of QB reagent and 1 ml of QB buffer (sufficient to prepare 100 ml of QUANTI-Blue™ Solution, a SEAP detection reagent)

Shipped on dry ice (Europe, USA, Canada, and some areas in Asia)
Back to the top
Details
TREX1 (also known as DNase III) is a major DNA-sensor nuclease in the cytoplasm.
The primary role of TREX1 is to target cellular DNA originating from aberrant replication and recombination [1]. TREX1 is bound to the ER (endoplasmic reticulum) and is able to degrade both single-stranded and double-stranded DNA as well as single-strand RNA. As a result, it blocks the activation of the cGAS-STING pathway, and thus dampening the nucleic acid sensor response. Therefore, it is thought to be a negative regulator of interferon (IFN) signaling preventing autoimmune diseases. Its acidic counterpart, DNase2, shares the same function, but is located in the lysosomes [2].
However,  TREX1 function also promotes protumor and -viral responses by degrading tumor- or virus-derived DNA that would otherwise stimulate the cGAS-STING pathway and elicit an immune response [2-3]. Unlike SAMHD1, another enzyme with nuclease activity, TREX1 boosts HIV-1 infection [4]. Mutations in TREX1 have been associated with a variety of disorders, such as the Aicardi–Goutières syndrome, Systemic Lupus Erythematosus or hereditary vascular retinopathy [1-4].
1. Kavanagh D. et al., 2008. New roles for the major human 3'-5' exonuclease TREX1 in human disease. Cell Cycle. 7(12):1718-25.
2. Baris, Adrian M et al., 2021. "Nucleic Acid Sensing in the Tumor Vasculature." Cancers vol. 13,17 4452.
3. Hemphill et al., 2021. TREX1 as a Novel Immunotherapeutic Target. Front Immunol. Apr 1;12:660184.
4. Hasan M. & Yan N., 2014. Safeguard against DNA sensing: the role of TREX1 in HIV-1 infection and autoimmune diseases. Front Microbiol. 5:193 
Back to the top