cAIM(PS)2 Difluor (Rp/Sp) (CL656)
| cAIM(PS)2 Difluor (Rp/Sp) | Unit size | Cat. code | Docs | Qty | Price |
| --- | --- | --- | --- | --- | --- |
| cAIMP bisphosphorothioate and difluorinated, a STING ligand | 2 x 100 µg | tlrl-nacairs-2 | | | |
You may also need : H-151 | View more associated products ▼
cAIMP bisphosphorothioate and difluorinated

InvivoGen's cAIM(PS)2 Difluor (Rp/Sp) (also known as CL656) is a synthetic cyclic dinucleotide (CDN) and potent agonist of the endoplasmic reticulum-resident receptor STING (stimulator of interferon genes) [1-3]. It is composed of Rp/Sp-isomers of the bisphosphorothioate derivative of cAIMP, an analog of the bacterial cyclic dinucleotide (CDN) 3'3'-cGAMP [1-2]. The binding of cAIM(PS)2 Difluor (Rp/Sp) to STING triggers the expression of interferon-β (IFN-β) and nuclear factor-κB (NF-κB) dependent inflammatory cytokines [1]. 
STING has been a privileged target for developing immunomodulatory therapeutics [3, 4]. Of note, cAIM(PS)2 Difluor (Rp/Sp) has entered clinical trials for treating advanced/metastatic, recurrent, solid tumors, with emphasis on squamous cell carcinoma of the head and neck, triple-negative breast cancer, anaplastic thyroid carcinoma, and cutaneous squamous cell carcinoma [5]. CL656 can be considered a clinically relevant safe STING agonist since it has been successfully administered in humans in combination with exosomes (ExoSTING) [3,5].  
Key Features

Unlike natural CDNs, whose constituent nucleosides are guanosine and/or adenine, cAIMP and its derivatives contain one adenine nucleoside and one inosine nucleoside. cAIM(PS)2 Difluor (Rp/Sp) is composed of two 2'-deoxynucleosides with a fluorine atom at the 2' position of each nucleoside for improved stability [5]. 
 
A clinically relevant 

safe 

STING agonist successfully administered in humans to treat advanced solid tumors [3,5].
 
In addition, this cAIMP analog contains two phosphorothioate diester linkages, which prevent its degradation by the phosphodiesterases that are present in host cells or in the systemic circulation [6].
 
2'3'‑cGAMP, cAIM(PS)2 Difluor (Rp/Sp) (referred to as compound 53 by Lioux et al. [1]) is more potent than 2'3'‑cGAMP for STING activation [1].
CL-656 was licensed by Kayla Therapeutics to Codiak Biosciences for therapeutic purposes.
Note: InvivoGen has developed stable STING reporter cells in two well-established immune cell models: THP-1 human monocytes and RAW 264.7 murine macrophages. These cells express inducible SEAP and/or Lucia luciferase reporter genes under the control of an IRF-inducible or NF-κB-inducible promoter.
References:
1. Lioux T. et al., 2016. Design, synthesis, and biological evaluation of novel cyclic adenosineinosine monophosphate (cAIMP) analogs that activate stimulator of interferon genes (STING). J Med Chem. 59:10253-10267.
2. Cyclic dinucleotides for cytokine induction, patent US10011630B2 and foreign equivalents.
3. Jang S., et al. 2021. ExoSTING, an extracellular vesicle loaded with STING agonists, promotes tumor immune surveillance. Commun. Biol. 4:497.
4. Zhang H., et al. 2020. Targeting Stimulator of Interferon Genes (STING): a medicinal chemistry perspective. Journal of Medicinal Chemistry. 63(8):3785.
5. https://clinicaltrials.gov/ct2/show/NCT04592484
6. Böhm H.J. et al., 2004. Fluorine in medicinal chemistry. Chembiochem. 5:637-43.
7. Yan H. et al., 2008. Synthesis and immunostimulatory properties of the phosphorothioate analogs of cdiGMP. Bioorg. Med. Chem. Lett. 18, 5631–5634.
Back to the top
Specifications
Source: Synthetic
Synonym: (Rp/Sp) c-[2'FdAM(PS)-2'FdIM(PS]) sodium salt
CAS: 1951464-79-1
Formula: C20H21F2N9O9P2S2 .2Na
Molecular weight: 695.5 (free acid), 739.5 (sodium salt)
Solubility: 50 mg/ml in water
Quality control:
Purity and structure has been determined by LC/MS and NMR: ≥ 95%

The biological activity 

has been confirmed using cellular assays.
The absence of bacterial contamination (e.g. lipoproteins & endotoxins) has been confirmed using HEK-Blue™ TLR4 and HEK-Blue™ TLR2 cells.
Back to the top
Contents
2x 100 μg of cAIM(PS)2 Difluor (Rp/Sp) provided lyophilized.
Note: This product is sterile filtered prior to lyophilization.
cAIM(PS)2 Difluor (Rp/Sp) is a mixture of Rp/Sp diastereoisomers.
1.5 ml endotoxin-free water
Back to the top
Description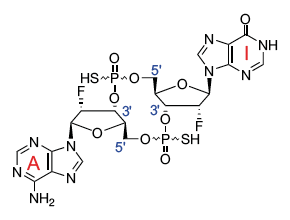 cAIM(PS)2 Difluor (Rp/Sp) chemical structure
Back to the top