Double NF-κB–Readout HEK293 Reporter Cells
| HEK-Blue-Lucia™ Null | Unit size | Cat. code | Docs | Qty | Price |
| --- | --- | --- | --- | --- | --- |
| Double NF-κB–readout HEK293 reporter cells | 3-7 x 10e6 cells | hkd-nullni | | | |
Notification: This cell line has been renamed. It was formerly known as "HEK-Dual™ Null". The cat. code (hkd-nullni) remains unchanged. 
This product is for internal research use only. Additional rights may be available. Please visit InvivoGen's Terms and Conditions.
Double NF-κB–readout HEK293 reporter cells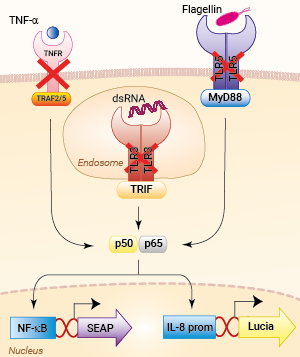 Signaling pathways in HEK-Blue-Lucia™ Null cells
InvivoGen offers a human embryonic kidney 293 (HEK293)-derived cell line, specifically designed to assess the distinct role of various Toll-like receptors (TLRs):
— HEK-Blue-Lucia™ Null cells*
These cells express two inducible reporter genes for SEAP (secreted embryonic alkaline phosphatase) and Lucia luciferase. Stimulation of HEK-Blue-Lucia™ Null cells with TLR agonists triggers the activation of the artificial NF-κB-inducible promoter and the subsequent production of SEAP. It also promotes the expression of Lucia luciferase, which is knocked in (KI) downstream of the endogenous (more physiological) IL-8 promoter. IL-8 (interleukin 8) is a chemokine produced in response to TLR agonists in an NF-κB/AP-1-dependent manner [1-2].

This feature enables the double readout study of the NF-κB/AP-1 pathway, by monitoring the activity of SEAP and Lucia luciferase using QUANTI-Blue™ Solution (SEAP detection reagent) or QUANTI-Luc™ 4 Lucia/Gaussia (luciferase detection reagent), respectively. Thus, you may choose the readout depending on your laboratory equipment utilizing a spectrophotometer for SEAP or a luminometer for Lucia luciferase detection.
HEK-Blue-Lucia™ Null cells also feature a triple knockout (KO) of TLR3, TLR5, and TNFR. Therefore, this cell line allows for the independent study of one single TLR when used in combination with:
Key features:

Verified KO for the TLR3, TLR5, and TNFR genes 
Functionally validated using a selection of PRR ligands and cytokines
Readily assessable NF-κB activation by assessing the SEAP and/or Lucia luciferase activities
* formerly named HEK-Dual™ Null cells
​References:
1. Roebuck KA. 1999. Regulation of interleukin-8 gene expression. J Interferon Cytokine Res:429-38.
2. Ohta K, et al. 2014. Toll-like receptor (TLR) expression and TLR‑mediated interleukin-8 production by human submandibular gland epithelial cells. Mol Med Rep. (5):2377-82.
Back to the top
Specifications
Antibiotic resistance: Blasticidin, Zeocin®
Growth medium: DMEM, 4.5 g/l glucose, 2 mM L-glutamine, 10% (v/v) heat-inactivated fetal bovine serum, 100 U/ml penicillin, 100 μg/ml streptomycin, 100 μg/ml Normocin™
Quality Control:
The triple KO of TLR3, TLR5, and TNFR has been verified by DNA sequencing, PCR, Western blot, and functional assays.
The stability for 20 passages, following thawing, has been verified.
These cells are guaranteed mycoplasma-free. 
Note: HEK-Blue-Lucia™ Null cells are resistant to Zeocin® and Blasticidin. They should be maintained in growth medium supplemented with Zeocin®.
These cells are covered by a Limited Use License (See Terms and Conditions).
Back to the top
Contents
3-7 x 106 cells 

in a cryovial or shipping flask.

1 ml of Zeocin® (100 mg/ml)
1 ml of Normocin™ (50 mg/ml)
1 ml of QB reagent and 1 ml of QB buffer (sufficient to prepare 100 ml of QUANTI-Blue™ Solution, a SEAP detection reagent)
1 tube of QUANTI-Luc™ 4 Reagent, a Lucia luciferase detection reagent (sufficient to prepare 25 ml)

Shipped on dry ice (Europe, USA, Canada, and some areas in Asia)
Back to the top