Full Spike (S), ectodomain, S1, and RBD Coding Sequences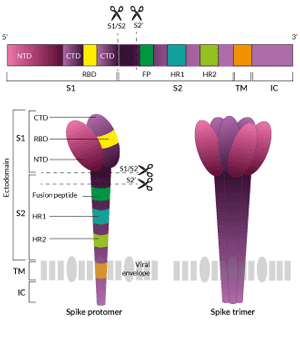 InvivoGen also offers:
• SARS-CoV-2-Cellular Receptor Genes
• SARS-CoV-2-Structural Genes
Spike (S) is a multifunctional glycoprotein that mediates SARS-CoV-2 (2019-nCoV) entry into the target cells [1, 2]. Most of the current knowledge about the SARS-CoV-2 Spike is based on analogies with findings on the previously identified SARS-CoV Spike. At the surface of the virus, Spike is a clove-shaped trimer. Each Spike protomer contains three segments: a large ectodomain, a transmembrane anchor (TM), and a short intracellular tail (IC) [1-3]. The Spike ectodomain contains three critical elements:
the S1 subunit contains an N-terminal (S1-NTD) and a C-terminal (S1-CTD) subdomains. The S1 "closed" conformation exerts a physical constraint on the S2 subunit until specific proteases cleave the S1/S2 and S2' sites [3].
the RBD (receptor binding domain) is located in the S1-CTD region and is buried in the inner S1 head-trimer. The S1 "open" conformation is expected to be necessary for binding to the ACE2 receptor at the surface of host target cells [3, 4].
the S2 subunit forms a trimeric stalk. It contains a fusion peptide (FP) and two heptad repeats (HR1 and HR2), which operate the fusion of viral and host membranes [3, 4].
 
Depending on your applications, InvivoGen offers genes encoding SARS-CoV-2 full-length Spike or fragments, from the Wuhan-Hu-1 isolate (D614) in different plasmids:
pUNO1 expression vector

Designed for mammalian cell expression of the full Spike glycoprotein
Contains the native (wild-type) Spike coding sequence
Contains the virus signal sequence
pUNO1His or pUNO1Fc production vectors

Designed for mammalian cell production and secretion of the Spike ectodomain, S1, or RBD
Express an optimized Spike coding sequence with CHO codon usage
Contain an exogenous signal sequence for extracellular secretion
Feature a C-terminal His- or Fc-tag to facilitate the detection and/or the purification of the Spike ectodomain, S1, or RBD

Read our reviews on COVID-19:
➤ The infection cycle of SARS-CoV-2
➤ Treatment with repurposed drugs
➤ Predicted host immune responses to SARS-CoV-2
➤ Vaccine development
References
1. Li F., 2016. Structure, function, and evolution of coronavirus spike proteins. Annu. Rev. Virol. 3:237-261.
2. Li F. et al., 2005. Structure of SARS coronavirus spike receptor-binding domain complexed with receptor. Science. 309:1864-1868.
3. Walls A.C. et al., 2020. Structure, function, and antigenicity of the SARS-CoV-2 spike glycoprotein. Cell. 181(2):281-292.e6.
4. Hoffmann M. et al., 2020. SARS-CoV-2 cell entry depends on ACE2 and TMPRSS2 and is blocked by a clinically proven protease inhibitor. Cell. 181:1-16.