InvivoGen's product citations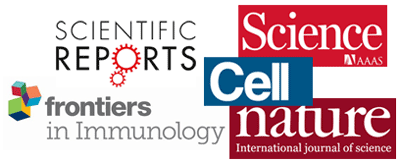 InvivoGen's products are frequently cited in peer-reviewed publications for a wide variety of applications and uses. Browse our product citations below.
Please note: By clicking on the product name, you can access via the 'Citations' tab all references of the product (click 'load more').
Citations search
You can search by 'Product Name' or 'Year'.
| Product | Citation | Year | Journal | Authors | Page |
| --- | --- | --- | --- | --- | --- |
| 3'3'-cGAMP | Age-Enhanced Endoplasmic Reticulum Stress Contributes to Increased Atg9A Inhi... | 2014 | J Immunol. | Mitzel D.N. et al. | DOI: 10.4049/jimmunol.1303090 |
| THP1-Dual™ Cells | RNAi Screen and Proteomics Reveal NXF1 as a Novel Regulator of IRF5 Signaling. | 2017 | Sci Rep. | Fu B. et al. | DOI: 10.1038/s41598-017-02857-z |
| C12-iE-DAP | Combined stimulation of Toll-like receptor 5 and NOD1 strongly potentiates ac... | 2013 | Infect Immun. | Tukhvatulin A.I. et al. | DOI: 10.1128/IAI.00525-13 |
| Zymosan | Stimulation and inhibition of FVIII-specific memory B-cell responses by CpG-B... | 2011 | Blood | Allacher P. et al. | DOI: 10.1182/blood-2010-06-289009 |
| LumiKine™ Xpress hIFN-β 2.0 | Phosphorylation-Dependent Feedback Inhibition of RIG-I by DAPK1 Identified by... | 2017 | Mol Cell. | Willemsen J. et al. | DOI: 10.1016/j.molcel.2016.12.021 |
| HSV-60 | Ku70 Senses HTLV-1 DNA and Modulates HTLV-1 Replication. | 2017 | J Immunol. | Wang J. et al. | DOI: 10.4049/jimmunol.1700111 |
| FLA-ST (Standard or Ultrapure) | Uniting the neuro developmental and immunological hypotheses: Neuregulin 1 re... | 2017 | Sci Rep. | Kéri S. et al. | DOI: 10.1038/s41598-017-03736-3 |
| Gardiquimod™ | Gardiquimod: A Toll-Like Receptor-7 Agonist That Inhibits HIV Type 1 Infectio... | 2013 | AIDS Res Hum Retroviruses | Buitendijk M. et al. | DOI: 10.1089/aid.2012.0313 |
| Zymosan Depleted | Nonagonistic Dectin-1 ligand transforms CpG into a multitask nanoparticulate ... | 2014 | PNAS | Kobiyama K. et al. | DOI: 10.1073/pnas.1319268111 |
| Imiquimod VacciGrade™ | Role of MyD88 signaling in the imiquimod-induced mouse model of psoriasis: fo... | 2017 | J Leukoc Biol. | Costa S. et al. | DOI: 10.1189/jlb.3MA0217-054RR |
| TLR4 agonist preparation - MPLA-SM | A nano particle vector comprised of poly lactic-co-glycolic acid and monophos... | 2017 | J Appl Microbiol. | Souza C.D. et al. | DOI: 10.1111/jam.13491 |
| TLR 2 - HA | TAK1 contributes to the enhanced responsiveness of LTB4-treated neutrophils t... | 2012 | Int Immunol. | Gaudreault E. et al. | DOI: 10.1093/intimm/dxs074 |
| LPS-EB Biotin | Granzyme K synergistically potentiates LPS-induced cytokine responses in huma... | 2014 | PNAS | Wensink A.C.et al. | DOI: 10.1073/pnas.1317347111 |
| MDP | Human NOD2 Recognizes Structurally Unique Muramyl Dipeptides from Mycobacteri... | 2016 | Infect Immun. | Schenk M. et al. | DOI: 10.1128/IAI.00334-16 |
| CLEC 7A | Particulate β-glucans synergistically activate TLR4 and Dectin-1 in human den... | 2016 | Mol Nutr Food Res. | Sahasrabudhe N.M. et al. | DOI: 10.1002/mnfr.201600356 |
| c-di-AMP | IFI16 and cGAS cooperate in the activation of STING during DNA sensing in hum... | 2017 | Nat Commun. | Almine J.F. et al. | DOI: 10.1038/ncomms14392 |
| G418 (Geneticin) | Molecular mechanisms regulating impaired neurogenesis of fragile X syndrome h... | 2015 | Stem Cells Dev. | Telias M. et al. | DOI: 10.1089/scd.2015.0220 |
| Pepinh-MYD | Toll/interleukin-1 receptor domain-containing adapter inducing interferon-β m... | 2012 | J Neurosci. | Hosmane S. et al. | DOI: 10.1523/JNEUROSCI.0203-12.201 |
| Blasticidin | DND1 maintains germline stem cells via recruitment of the CCR4-NOT complex to... | 2017 | Nature. | Yamaji M. et al. | DOI: 10.1038/nature21690 |
| Human TLR3 Reporter HEK293 Cells (NF-κB) | Toll-like receptor mediated activation is possibly involved in immunoregulati... | 2017 | PLoS One. | Kiewiet M.B. et al. | DOI: 10.1371/journal.pone.0178191 |
Pages