CRX-527
| CRX-527 | Unit size | Cat. code | Docs | Qty | Price |
| --- | --- | --- | --- | --- | --- |
| Synthetic lipid A analog | 1 mg | tlrl-crx527 | | | |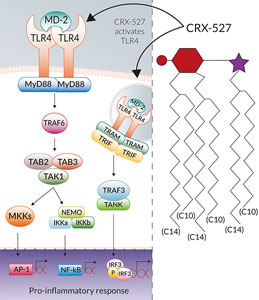 CRX-527 activates TLR4
Synthetic lipid A analog - TLR4 agonist

CRX-527 is a synthetic lipid A mimic belonging to the aminoakyl glucoaminide 4-phosphate (AGP) family [1]. Similar to lipid A, the active component of lipopolysaccharide (LPS), CRX-527 activates Toll-like receptor 4 (TLR4).  Subsequently, it initiates MyD88- and TRIF-dependent pro-inflammatory signaling cascades. Importantly, CRX-527 does not require the TLR4 co-receptor CD14 for activation of either signaling pathway [2]. CRX-527, along with other AGPs, is less toxic than LPS and importantly retains its immunostimulatory properties. Therefore, AGPs have great potential as future vaccine adjuvants as well as stand‑alone immunostimulants [3].
CRX-527 is composed of a monosaccharide unit glycosidically linked to an L-serine-based aglycon unit. It is a hexa -acylated molecule consisting of three "primary" myristic (C14) and three decanoic (C10) acyl chains. Interestingly, most likely due to its structure CRX-527 does not activate a typical Limulus amebocyte lysate (LAL) assay commonly used for measuring endotoxin levels.
Key highlights of CRX-527:
Highly specific and potent TLR4 agonist
Displays significantly less toxicity when compared to LPS
Doesn't require the co-receptor CD14 for TLR4 activation and signaling
InvivoGen's CRX-527 is of the highest quality, guaranteed free of bacterial contamination, and has been functionally validated on HEK-Blue™ hTLR4 cells.
References:
1. Stover, A.G. et al. 2003.Structure-activity relationship of synthetic Toll-like receptor 4 agonists. J. Biol. Chem. 279:4440-4449.
2. Legat, A.et al. 2010.CD14-independent responses induced by a synthetic lipid A mimetic. Eur. J. Immunol. 40:792-802.
3. Tan, Z.Y. et al. 2013. Synthetic TLR4 agonists as a potential immunotherapy for melioidosis. Open J Immunol. 3: 1-9.

Learn more about TLR4 and its co-receptors

Learn more about different Lipid A structures
Back to the top
Specifications
CAS Number: 216014-14-1
Formula: C81H151N2O19P
Molecular weight: 1488.07 g/mol
Endotoxin Level: >5 x 104 EU/mg (measured using the HEK-Blue™ LPS detection kit II)
Solubility: 1 mg/ml in DMSO
Quality Control
Purity: ≥90% (UHPLC)
Activation of TLR4 by CRX-527 has been confirmed using a HEK Blue™ TLR4 cellular assay.
Absence of bacterial contamination (e.g. lipoproteins) has been confirmed using a HEK-Blue™ TLR2 cellular assay.
Back to the top
Contents
1 mg CRX-527 (provided as a clear lipidic film)

CRX-527 is shipped at room temperature.

Store at -20°C. Upon resuspension, prepare aliquots of CRX-527 and store at -20°C.

Resuspended product is stable 6 months at -20°C. 

Avoid repeated freeze-thaw cycles.
Back to the top
Details
Chemical structure of CRX-527: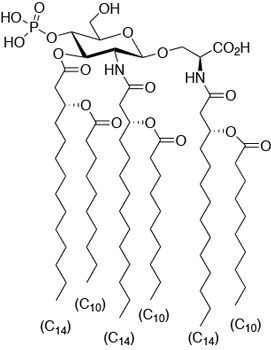 Back to the top