Raji-hCTLA4 Cells
| Raji-hCTLA4 Cells | Unit size | Cat. code | Docs | Qty | Price |
| --- | --- | --- | --- | --- | --- |
| Human lymphoblast cells - ADCC CTLA-4 Target Cells | 3-7 x 10e6 cells | raji-hctla4 | | | |
You may also need : Anti-hCTLA4-hIgG1 | View more associated products ▼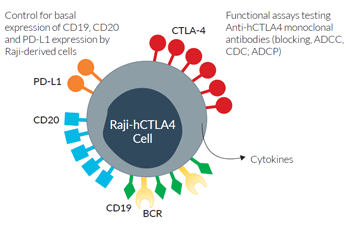 Examples of applications using the Raji-hCTLA4 cell line.
Human CTLA-4-expressing B-cell line

Raji-hCTLA4  cells were developed from the human Raji cell line. Raji cells have been successfully used as target cells in  human effector studies such as antibody-dependent cellular cytotoxicity (ADCC), either with peripheral blood mononuclear cells, Natural Killer cells, or Jurkat-derived reporter T cells. CTLA-4 (cytotoxic T cell lymphocyte antigen-4; also known as CD152) is a type I transmembrane protein expressed at the cell surface of activated conventional T cells and constitutively on immunosuppressive regulatory T cells (Tregs). CTLA-4 is an inhibitory immune checkpoint that prevents T-cell overstimulation and host damage. It exerts competitive binding for stimulatory CD28 ligands (CD80/CD86) [1].
Features of Raji-hCTLA4 cells:
Stable overexpression of the human CTLA-4 gene
Constitutive expression of human CD19 and human CD20 at the cell surface
Constitutive low expression of human PD-L1 at the cell surface
Stable expression of a resistance gene to Blasticidin
Applications for Raji-hCTLA4 cells:
ADCC target cells for 

anti-hCTLA4

, anti-hCD19, anti-hCD20, or anti-hPD-L1 Abs
Negative control target cells in ADCC assays using Abs other than anti-hCTLA-4, anti-hPD-L1, anti-hCD19, or anti-hCD20 Abs
Target cells for anti-hCD19-CD3 bispecific Abs
Validation of Raji-hCTLA4 cells:
References:
1. Ribas A. and Wolchock J.D., 2018. Cancer immunotherapy using checkpoint blockade. Science. 359:1350-55.
Back to the top
Specifications
Quality control:
Human CTLA-4 expression has been verified by flow-cytometry.
Induction of antibody-dependent cellular cytotoxicity (ADCC) has been validated using InvivoGen's anti-hCTLA4-hIgG1 and Jurkat-NFAT Lucia™ CD16 reporter cell line.
The stability for 20 passages following thawing has been verified.
Raji-hCTLA4 cells are guaranteed mycoplasma-free.
These products are covered by a Limited Use License (See Terms and Conditions).
Back to the top
Contents
1 vial of Raji-hCTLA4 cells (3-7 x 106 cells) in Freezing Medium
1 ml of Blasticidin (10 mg/ml). Store at 4 °C or at -20 °C.
1 ml of Normocin™ (50 mg/ml). Normocin™ is a formulation of three antibiotics active against mycoplasmas, bacteria and fungi. Store at -20 °C.

Shipped on dry ice (Europe, USA & Canada)
Back to the top