pSELECT Lucia-Tag
| pSELECT-NLucia-blasti | Unit size | Cat. code | Docs | Qty | Price |
| --- | --- | --- | --- | --- | --- |
| N-Tag - Blasticidin selection | 20 µg | psetb-nlucia | | | |
| pSELECT-NLucia-zeo | Unit size | Cat. code | Docs | Qty | Price |
| --- | --- | --- | --- | --- | --- |
| N-Tag - Zeocin selection | 20 µg | psetz-nlucia | | | |
Expression plasmid with a secreted luciferase (Lucia) Tag

pSELECT Lucia-Tag is a family of expression plasmids designed to generate tagged proteins in mammalian cells with the Lucia luciferase in order to detect and quantify the tagged protein of interest by bioluminescence assay.
Lucia is a secreted luciferase with strong bioluminescent activity.The luciferase activity of Lucia luciferase can be detected and quantified directly in the culture medium of transfected cells using InvivoGen's QUANTI-Luc™ detection reagent.
pSELECT Lucia-Tag plasmids are available with Blasticidin or Zeocin™ resistance gene for selection.
Back to the top
Specifications
N-terminal tag: the tag encompasses the Start Codon and is followed by a multiple cloning site (MCS)
Lucia luciferase-Tag: Detection and quantification of the tagged protein by bioluminescence assay
These products are covered by a Limited Use License (See Terms and Conditions).
Back to the top
Contents
pSELECT-NLucia-blasti is provided as:
20 µg of lyophilized DNA
2 x 1 ml blasticidin at 10 mg/ml
pSELECT-NLucia-zeo is provided as:
20 µg of lyophilized DNA
1 ml of Zeocin™  at 100 mg/ml

Product is shipped at room temperature
Back to the top
Details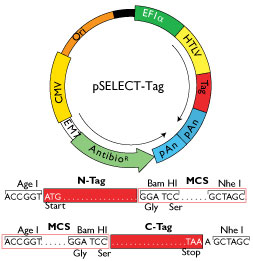 Back to the top