Hygromycin B Gold
Hygromycin B Gold (solution)
Unit size
Cat. code
Docs
Qty
Price

Selective antibiotic for the hph gene

1 g (10 x 1 ml)

5 g (1 x 50 ml)

ant-hg-1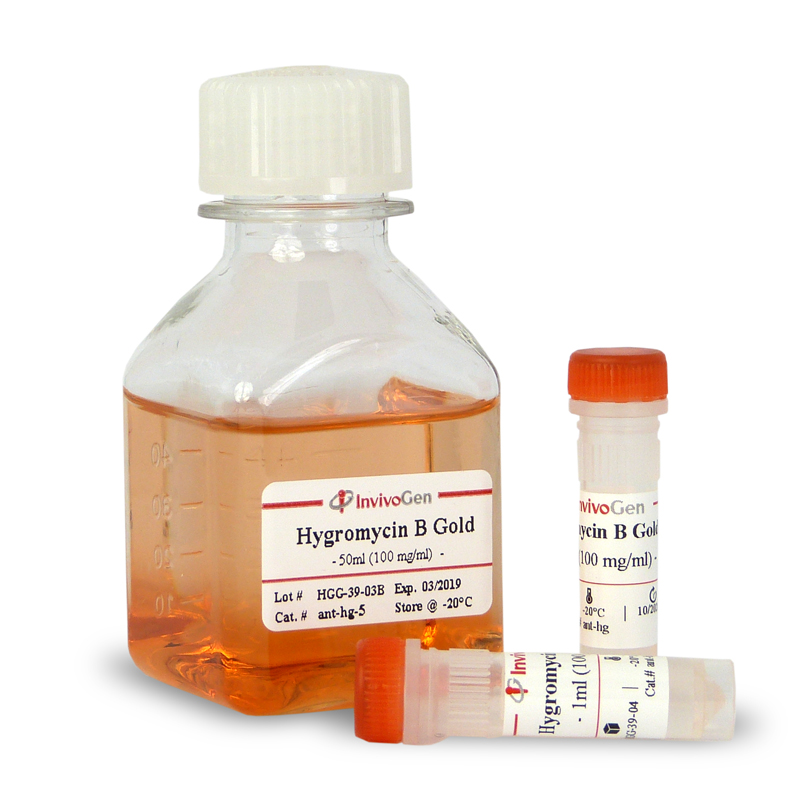 Selection antibiotic: cell culture tested, sterile reagent
Hygromycin B Gold™ is an ultrapure Hygromycin B.
Hygromycin B is an aminoglycoside antibiotic produced by Streptomyces hygroscopicus. It kills bacteria, fungi and higher eukaryotic cells by inhibiting protein synthesis. It has been reported to interfere with translocation [1] and to cause mistranslation at the 70S ribosome [2].
Resistance to Hygromycin B
Hygromycin B is used as a selective agent in molecular genetics experiments on a wide variety of eukaryotic and prokaryotic species [3-5].
The hph gene confers hygromycin-resistance to cells expressing it and many vectors carrying the hph gene are available within the scientific community. Typically, mammalian cells are sensitive to Hygromycin B concentrations of 50-200 µg/ml, and bacteria to 50-100 µg/ml.
Protocol to facilitate the transition from using Hygromycin B to Hygromycin B Gold.
1. Cabanas M. et al., 1978. Dual interference of Hygromycin B with ribosomal translocation and with Aminoacyl-tRNA recognition. Eur. J. Biochem. 87:21‑7.
2. Gonzales, A. et al., 1978. Studies on the mode of action of hygromycin B, an inhibitor of translocation in eukaryotes. Biochem Biophys Acta 521:459‑69.
3. Gritz L. & Davies J., 1983. Plasmid-encoded hygromycin B resistance: the sequence of hygromycin B phosphotransferase gene and its expression in Escherichia coli and Saccharomyces cerevisiae. Gene 25:179-88.
4. Cullen D. et al., 1987. Transformation of Aspergillus nidulans with the hygromycin-resistance gene, hph. Gene 57:21-6.
5. Santerre R. et al., 1984. Expression of prokaryotic genes for hygromycin B and G418 resistance as dominant-selection markers in mouse L cells. Gene 30:147-56.
Back to the top
Specifications
Product concentration:100 mg/ml solution
CAS number: 31282-04-9
Quality Control: Each lot is thoroughly tested to ensure the absence of lot-to-lot variation.
Purity: ≥ 90% (HPLC)
Endotoxin level: < 0.5 EU/mg
Physicochemical characterization: pH, appearance
Cell culture tested: potency validated in hygromycin‑sensitive and hygromycin-resistant mammalian cell lines
Non‑cytotoxicity of trace contaminants: absence of long‑term effects confirmed in hygromycin‑resistant cells
Back to the top
Contents
Hygromycin B Gold (previously named HygroGold™) is supplied as a sterile filtered yellow solution at 100 mg/ml in HEPES buffer.
This product is available in two pack sizes:
ant-hg-1: 10 x 1 ml (1 g)
ant-hg-5: 1 x 50 ml (5 g)

Hygromycin B Gold is shipped at room temperature.

Upon receipt, it should be stored at 4°C or -20˚C.

SPECIAL HANDLING : Hygromycin B is a hazardous compound. Avoid contact with skin and eyes.
Back to the top
Description
The working concentrations of Hygromycin B Gold for mammalian cell lines vary from 50 to 200 μg/ml, in a few cases up to 500 μg/ml.
If you notice unusually high cytotoxicity when switching to Hygromycin B Gold, you may need to adjust your working concentrations.
Suggested concentrations of Hygromycin B Gold for selection in some examples of mammalian cells are listed below.
 
Cell line
Species
Tissue
Medium
Hygromycin B
Equivalent concentrations
Hygromycin B
(ant-hm-1, ant‑hm-5)
Hygromycin B Gold
(ant-hg-1, ant-hg-5)
B16
 Mouse
Melanoma
RPMI
100-200 µg/ml
200 µg/ml
160 µg/ml
CHO
Hamster
Ovary
MEM
100-500 µg/ml
500 µg/ml
400 µg/ml
HeLa
Human
Cervix
DMEM
100-200 µg/ml
200 µg/ml
160 µg/ml
HEK293
Human
Kidney
DMEM
50-400 µg/ml
500 µg/ml
320 µg/ml
Raji
Human
Lymphoma
RPMI
125-300 µg/ml
300 µg/ml
240 µg/ml
THP-1
Human
Monocytes
RPMI
200-400 µg/ml
500 µg/ml
320 µg/ml
Back to the top
Details
Formula: C20H37N3O13, HCl
Molecular weight: 563.5
Structure: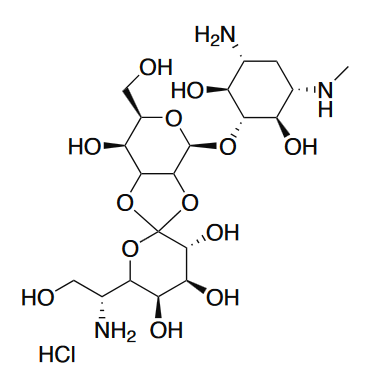 Back to the top