Literature

Follow us on

Follow us on

HEK-Blue™ IL-1R Cells
Human & Murine IL-1 Sensor Cells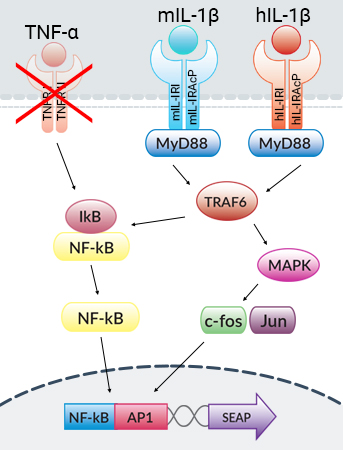 HEK-Blue™ IL-1R cells were designed to detect bioactive human and murine cytokines (IL-1α and IL-1β) by monitoring the activation of the NF-κB and AP-1 pathways. Additionally, these cells detect bioactive IL-1β from cynomolgus monkeys, dogs, and rats. HEK-Blue™ IL-1R cells can detect IL-1α and IL-1β because these cytokines bind to the same receptor, IL-1R1.
These cells derive from HEK-Blue™ IL-1β cells in which the TNF-α response is blocked. Therefore, HEK-Blue™ IL-1R cells respond specifically to IL-1.
HEK-Blue™ IL-1R cells endogenously express the human IL-1 receptor and were stably transfected with the murine IL-1 receptor rendering these cells very sensitive to both human and murine IL-1β.
HEK-Blue™ IL-1R cells express a SEAP reporter gene under the control of the IFN-β minimal promoter fused to five NF-κB and five AP-1 binding sites. Binding of IL-1β to its receptor IL-1R on the surface of HEK-Blue™ IL-1R cells triggers a signaling cascade leading to the activation NF-κB and the subsequent production of SEAP.
Detection of SEAP in the supernatant of HEK-Blue™ IL-1R cells can be readily assessed using QUANTI-Blue™, a SEAP detection medium. QUANTI-Blue™ turns blue in the presence of SEAP which can be easily quantified using a spectrophotometer.
Figures for this product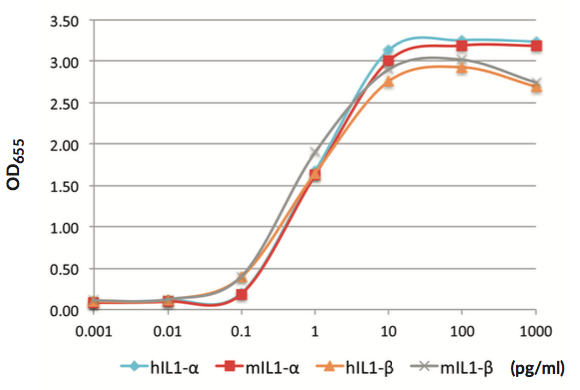 ORDERING
HEK-Blue™ IL-1R Cells
Description
Human & Murine IL-1β Sensor Cells
Cat. Code
hkb-il1r
Unit Size
3-7 x 10e6 cells
Price
For price or distributor address,
please select your country
MOST POPULAR
Plasmocin™
Mycoplasma removal agent

More info
High quality ready-to-use selective antibiotics with purity levels exceeding 95%.