Literature

Follow us on

Follow us on

HEK-Blue™ IL-4/IL-13 Cells
IL-4 and IL-13 Sensor Cells
HEK-Blue™ IL-4/IL-13 cells allow the detection of bioactive human IL-4 and human/mouse IL-13 by monitoring the activation of the STAT-6 pathway. These cells were generated by stable transfection of HEK293 cells with the human STAT6 gene to obtain a fully active STAT6 pathway. The other genes of the pathway are naturally expressed in sufficient amounts. The cells were further transfected with a STAT6-inducible SEAP reporter gene. HEK-Blue™ IL-4/IL-13 cells produce SEAP in response to IL-4 or IL-13 stimulation. The levels of STAT6-induced SEAP secreted in the supernatant can be easily determined using QUANTI-Blue™. Stimulation of HEK-Blue™ IL-4/IL-13 cells with recombinant human IL-4 or IL-13 can be blocked by the neutralizing monoclonal hIL-4-IgA and hIL-13-IgG antibodies, respectively.
APPLICATIONS: HEK-Blue™ IL-4/IL-13 cells can be used to validate the functionality of recombinant native or engineered human IL-4 or human IL-13. They can also be used to screen for molecules that inhibit IL-4/IL-13 signaling such as antibodies targeting IL-4, IL-13, IL4Rα or IL-13Rα1 and inhibitors of JAK1.
Specifications
Antibiotic resistance: blasticidin, Zeocin™
Growth medium: DMEM, 4.5 g/l glucose, 2-4 mM L-glutamine, 10% (v/v) fetal bovine serum, 50 U/ml penicillin, 50 μg/ml streptomycin, 100 μg/ml Normocin™
Guaranteed mycoplasma-free
Shipped on dry ice
Detects human IL-4 and human/murine IL-13
• Detection range for human IL-4: 0.1 - 10 ng/ml
• Detection range for human IL-13: 1 - 100 ng/ml

Description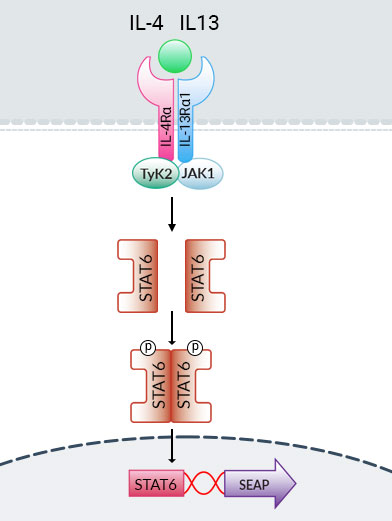 The transcription factor STAT6 is activated primarily by two cytokines with overlapping biologic functions, IL-4 and IL-13. It can also be activated by IFN-α in a cell-specific manner. In non-hematopoietic cells, IL-4 and IL-13 bind a receptor complex composed of the IL-4Ralpha and IL-13Ralpha1. Upon ligand binding, the receptor complex activates the receptor-associated Janus kinases (JAK1 and Tyk2) leading to the recruitment of STAT6 and its phosphorylation. Activated STAT6 forms homodimers that translocate to the nucleus where they bind the promoter of responsive genes inducing gene transcription.
In HEK-Blue™ IL-4/IL-13 cells stimulation with IL-4 or IL-13 activates the JAK/STAT6 pathway with the subsequent production of SEAP.
Citations
Recent articles using InvivoGen HEK-Blue™ IL-4/IL-13 Cells
2016

- Int J Mol Sci., 17(2)
Exploring the effects of omega-3 and omega-6 fatty acids on allergy using a HEK-Blue cell line.
Ahmed N, Barrow CJ, Suphioglu C.


2015

- Cell Physiol Biochem., 36(3):831-42
Identification and characterization of a novel IL-4 receptor α chain (IL-4Rα) antagonist to inhibit IL-4 signalling.
Ahmed N, Dhanapala P, Suphioglu C.


2015

- Proteins., 83(6):1191-7. d
Induced conformational change in human IL-4 upon binding of a signal-neutralizing DARPin.
Obmolova G, Teplyakov A, Malia TJ, Keough E, Luo J, Sweet R, Jacobs SA, Yi F, Hippensteel R, O'Neil KT, Gilliland GL.

ORDERING
HEK-Blue™ IL-4/IL-13 cells
Cat. Code
hkb-il413
Unit Size
3-7 x 10e6 cells
Price
For price or distributor address,
please select your country
Look for Similar Items by Category
MOST POPULAR
Plasmocin™
Mycoplasma removal agent

More info
High quality ready-to-use selective antibiotics with purity levels exceeding 95%.