Literature

Follow us on

Follow us on

HEK-Blue™ CD40L Cells
CD40L Sensor Cells
HEK-Blue™ CD40L cells can serve to measure the bioactivity of CD40L through the secretion of embryonic alkaline phosphatase (SEAP) upon NF-κB activation following CD40 stimulation. These cells were generated by stable transfection of HEK293 cells with the human CD40 gene and an NF-κB-inducible SEAP construct. Binding of CD40L to its receptor CD40 triggers a signaling cascade leading to the activation of NF-κB and the subsequent production of SEAP. CD40L-CD40 interaction can be monitored by assessing the levels of SEAP using QUANTI-Blue™. HEK293 cells express endogenously the receptors for the cytokines IL-1β and TNF-α which share a common signaling pathway with CD40L. Consequently, HEK-Blue™ CD40L cells also respond to IL-1β and TNF-α. IL-1β- and TNF-α-mediated SEAP production can be blocked using neutralizing antibodies, such as anti-hIL-1β-IgG and anti-hTNF-α-IgA respectively.
Specifications
Antibiotic resistance: blasticidin, Zeocin™
Growth medium: DMEM, 4.5 g/l glucose, 2-4 mM L-glutamine, 10% (v/v) fetal bovine serum, 50 U/ml penicillin, 50 μg/ml streptomycin, 100 μg/ml Normocin™
Guaranteed mycoplasma-free
Shipped on dry ice
Screen for molecules that interfere with CD40L-CD40 cross-talk
Detection range for human CD40L: 5 ng - 1 μg/ml

Description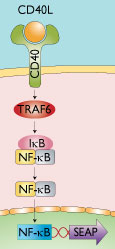 CD40 ligand (CD40L) is a member of the tumor necrosis factor (TNF) family of cell surface interaction molecules. It is mainly expressed in CD4+ T cells and interacts with CD40 on antigen-presenting cells to regulate both humoral and cellular immune responses. The CD40 cytoplasmic domain binds directly to several TNF receptor-associated factors (TRAFs), and this interaction is thought to initiate CD40 signaling. CD40-mediated signaling results in NF-κB, c-Jun N-terminal kinase (JNK) and p38 mitogen-activated protein kinase (MAPK) activation.
In HEK-Blue™ CD40L cells, binding of CD40L to its receptor CD40 triggers a signaling cascade leading to the activation of NF-κB and the subsequent production of SEAP.
Citations
Recent articles using InvivoGen HEK-Blue™ CD40L Cells
2014

- Nat Biotechnol., 32(4):356-63
Complete humanization of the mouse immunoglobulin loci enables efficient therapeutic antibody discovery.
Lee EC, Liang Q, Ali H, Bayliss L, Beasley A, Bloomfield-Gerdes T, Bonoli L, Brown R, Campbell J, Carpenter A, Chalk S, Davis A, England N, Fane-Dremucheva A, Franz B, Germaschewski V, Holmes H, Holmes S, Kirby I, Kosmac M, Legent A, Lui H et al.

ORDERING
HEK-Blue™ CD40L cells
Cat. Code
hkb-cd40
Unit Size
3-7 x 10e6 cells
Price
For price or distributor address,
please select your country
Look for Similar Items by Category
MOST POPULAR
Plasmocin™
Mycoplasma removal agent

More info
High quality ready-to-use selective antibiotics with purity levels exceeding 95%.