Literature

Follow us on

Follow us on

HEK-Blue™ TGF-β Cells
TGF-β Sensor Cells
HEK-Blue™ TGF-β cells allow the detection of bioactive TGF-β by monitoring the activation of the TGF-β/Smad pathway. They were generated by stable transfection of HEK293 cells with the human TGFBRI, Smad3 and Smad4 genes. They further express a Smad3/4-binding elements (SBE)-inducible SEAP reporter gene. Stimulation of HEK-Blue™ TGF-β cells with TGF-β induces the activation of the TGF-β/Smad signaling pathway leading to the formation of a Smad3/Smad4 complex. The heterocomplex enters the nucleus and binds SBE sites inducing the production of SEAP. The quantity of SEAP secreted in the supernatant can be easily assessed using QUANTI-Blue™. TGF-β-mediated SEAP production can be blocked using a neutralizing antibody, such as anti-hTGFβ-IgA.
Specifications
Antibiotic resistance: blasticidin, hygromycin B, Zeocin™
Growth medium: DMEM, 4.5 g/l glucose, 2-4 mM L-glutamine, 10% (v/v) fetal bovine serum, 50 U/ml penicillin, 50 μg/ml streptomycin, 100 μg/ml Normocin™
Guaranteed mycoplasma-free
Shipped on dry ice
Detects human TGF-β
Detection range for human TGF-β: 0.1 - 10 ng/ml

Description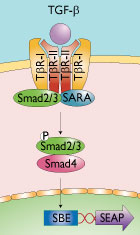 Tumor growth factor-beta (TGF-β) belongs to a family of structurally related cytokines that regulate a plethora of cellular functions, such as proliferation, apoptosis, differentiation and migration.
TGF-β binds to a type II receptor which recruits and activates a type I receptor. The type I receptor then phosphorylates receptor-regulated Smads (R-Smads), such as Smad2 and Smad3, which associate with Smad4. R-Smad/Smad4 complexes accumulate in the nucleus where they regulate the transcription of target genes.
HEK-Blue™ TGF-β cells are designed to monitor TGF-β-induced Smad signaling, as these cells express a Smad3/4-binding elements (SBE)-inducible SEAP reporter gene.
Citations
Recent articles using InvivoGen HEK-Blue™ TGF-β Cells
2014

- Cancer Res., 74(20):5690-9
Novel drug candidates for the treatment of metastatic colorectal cancer through global inverse gene-expression profiling.
van Noort V, Schölch S, Iskar M, Zeller G, Ostertag K, Schweitzer C, Werner K, Weitz J, Koch M, Bork P.

ORDERING
HEK-Blue™ TGF-β cells
Cat. Code
hkb-tgfb
Unit Size
3-7 x 10e6 cells
Price
For price or distributor address,
please select your country
Look for Similar Items by Category
MOST POPULAR
Plasmocin™
Mycoplasma removal agent

More info
High quality ready-to-use selective antibiotics with purity levels exceeding 95%.