Literature

Follow us on

Follow us on

HEK-Blue™ IL-6 Cells
IL-6 Sensor Cells
HEK-Blue™ IL-6 cells allow the detection of bioactive human IL-6 by monitoring the activation of the STAT-3 pathway. These cells were generated by stable transfection of HEK293 cells with the human IL-6R gene and a STAT3-inducible SEAP reporter gene. Upon IL-6 stimulation, HEK-Blue™ IL-6 cells trigger the activation of STAT3 and the subsequent secretion of SEAP. Levels of STAT3-induced SEAP can be readily monitored using QUANTI-Blue™. Stimulation of HEK-Blue™ IL-6 cells with recombinant human IL-6 can be blocked by anti-hIL-6-IgG.
APPLICATIONS: HEK-Blue™ IL-6 cells can be used to validate the functionality of recombinant native or engineered human IL-6. They can also be used to screen for molecules that inhibit IL-6 signaling such as antibodies targeting IL-6 or IL-6R and inhibitors of JAK1/JAK2.
Specifications
Antibiotic resistance: blasticidin, hygromycin, Zeocin™
Growth medium: DMEM, 4.5 g/l glucose, 2-4 mM L-glutamine, 10% (v/v) fetal bovine serum, 50 U/ml penicillin, 50 μg/ml streptomycin, 100 μg/ml Normocin™
Guaranteed mycoplasma-free
Shipped on dry ice
Specificity: human IL-6

Detection range: 0.03 - 10 ng/ml for human IL-6

Contents
• 1 vial containing 3-7 x 106 cells
• 2 x 1 ml HEK-Blue™ Selection (250X concentrate); a solution containing several selection antibiotics.
• 1 ml Normocin™ (50 mg/ml)
• 1 pouch of QUANTI-Blue™ (SEAP detection medium)

Description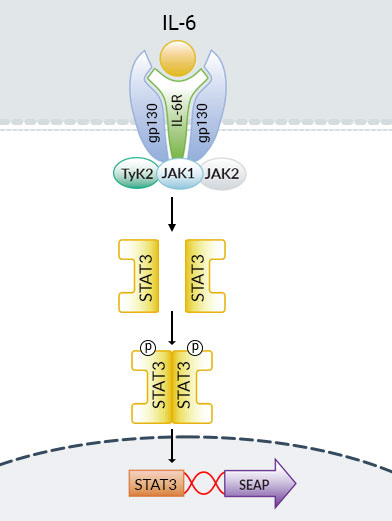 The proinflammatory cytokine IL-6 is one of the most important mediators of fever and of the acute phase response. IL-6 exerts its action by first binding to the IL-6R. The complex of IL-6 and IL-6R associates with the signal-transducing membrane protein gp130, thereby inducing its dimerization. This leads to the activation by phosphorylation of the tyrosine kinases of the Janus family (JAK1, JAK2, and Tyk2). Activated JAKs induce the dimerization and translocation to the nucleus of STAT3 where it binds enhancer elements of IL-6-inducible genes.
In HEK-Blue™ IL-6 cells activation of the JAK/STAT3 pathway with IL-6 leads to the production of SEAP.
Citations
Recent articles using InvivoGen HEK-Blue™ IL-6 Cells
2016

- Blood., 128(10):1362-73.
The genetics of nodal marginal zone lymphoma.
Spina V. et al.


2015

- Biochem Biophys Res Commun., 468(4):733-8.
High-affinity interaction between interleukin-11 and S100P protein.
Kazakov AS, Sokolov AS, Rastrygina VA, Solovyev VV, Ismailov RG, Mikhailov RV, Ulitin AB, Yakovenko AR, Mirzabekov TA, Permyakov EA, Permyakov SE.


2014

- FASEB J , 27: lb552.
TNF and IL-6/STAT3 crosstalk revealed in a commercially-available cell line.
Loring RH, Naiki P, Wu T and Garg B
Free article
ORDERING
HEK-Blue™ IL-6 cells
Description
Bioactive human IL-6 sensor cells
Cat. Code
hkb-hil6
Unit Size
3-7 x 10e6 cells
Price
For price or distributor address,
please select your country
Look for Similar Items by Category
MOST POPULAR
Plasmocin™
Mycoplasma removal agent

More info
High quality ready-to-use selective antibiotics with purity levels exceeding 95%.