Literature

Blasticidin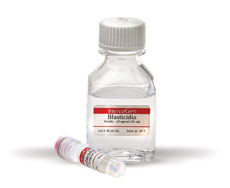 Blasticidin is an efficient selective antibiotic that acts on both eukaryotic and prokaryotic cells. Blasticidin is a peptidyl nucleoside antibiotic isolated from Streptomyces griseochromogenes that inhibits protein synthesis by interfering with the peptide-bond formation in the ribosomal machinery.
Resistance to blasticidin is conferred by the blasticidin resistance gene from Bacillus cereus (bsr), which codes for blasticidin-S deaminase.
Cell death induced by blasticidin is rapid and cell lines carrying a blasticidin resistance gene can be obtained in less than a week. Typically, mammalian cells are sensitive to blasticidin concentrations of 1-10 µg/ml, and bacteria to 25-100 µg/ml.
Specifications
Working concentration:
- 25-100 µg/ml in bacteria
- 1-30 µg/ml in mammalian cells
Purity: controlled by HPLC >95%
Formula: C17H26N8O5, 1 HCl
Quality control:
Blasticidin hydrochloride is supplied as colorless solution in HEPES buffer (100% active compound), pH 7.5, filtered to sterility for customer convenience and cell culture tested, or as a powder.
Activity controlled by bioassays on bacteria and mammalian cell lines.
Contents
Blasticidin hydrochloride is supplied as 1 ml tubes of a 10 mg/ml colorless solution in HEPES buffer (100% active compound):
- ant-bl-1: 10 x 1 ml at 10 mg/ml (100 mg)
- ant-bl-5: 50 x 1 ml at 10 mg/ml (500 mg)
- ant-bl-5b: 1 x 50ml at 10 mg/ml (500 mg)
Blasticidin hydrochloride is also supplied as a powder:
- ant-bl-10p: 1 g (powder)
Blasticidin is shipped at room temperature. Upon receipt it should be stored at 4°C or -20°C.
Ref.
- PEREZ-GONZALEZ J.A. et al. (1990). Gene.86: 129-134.
- IZUMIM. et al. (1991). Exp.Cell Res.197: 229-233.
- ITAYA M. et al. (1990). J.Biochem. 107: 799-801.
- KIMURA M. et al. (1994). Mol. Gen. Genet. 242: 121-129.
- KIMURA M. et al. (1994). Biochim.Biophys.Acta.1219:653-659
Citations
Recent articles using Blasticidin
2011

- J.Virol., 85: 4792-4801
A respiratory syncytial virus replicon that is noncytotoxic and capable of long-term foreign gene expression.
Malykhina O, Yednak MA, Collins PL, Olivo PD, Peeples ME
Free article

2012

- J. Biol. Chem., 287: 1306 - 1321
Plasmodium falciparum inhibitor-3 homolog increases protein phosphatase type 1 activity and is essential for parasitic survival.
Freville A, Landrieu I, Garcia-Gimeno MA, Vicogne J, Montbarbon M, Bertin B, Verger A, Kalamou H, Sanz P, Werkmeister E, Pierrot C, Khalife J


2011

- Nucleic Acids Res., 39: 7750 - 7763
PDE12 removes mitochondrial RNA poly(A) tails and controls translation in human mitochondria.
Rorbach J, Nicholls TJ, Minczuk M
Free article
ORDERING
MOST POPULAR
Plasmocin™
Mycoplasma removal agent

More info
High quality ready-to-use selective antibiotics with purity levels exceeding 95%.